Making an Authentic Millennial Mom-Brand Connection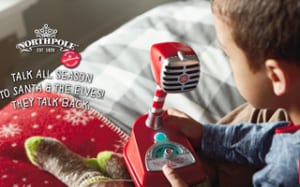 Hallmark Consumer Understanding & Insight Manager Nancy Cox shares how the retailer connected with moms to launch a new product for the 2014 holiday season.
As we were preparing for this year's launch of the Hallmark Northpole Communicator—a toy that lets kids talk with Santa and his helpers—we first wanted to understand how children would react to it. So, we went straight to the source—moms.
Through photos and videos, mothers who are part of our online consumer community—in partnership with Communispace— documented how their boys and girls played with the toy. To our surprise, moms' work revealed that a child's favorite place to play with the Northpole Communicator wasn't in the living room or kitchen; it was in secret, at night, while they were nestled all snug in their beds. These intimate moments that only a mom can capture helped inspire Hallmark's advertising and marketing for Northpole events around the country this holiday season.
This is just one of many examples of how building real trust and relationships—not simply relying on focus groups or archetypal generalizations—with Millennial moms, our most important customer base, is transforming how Hallmark innovates as a company.
We've all read the facts and figures. Millennial moms have an annual purchasing power of $170 billion. They're multicultural mavens of social media. Always texting. Forever posting, pinning, re-gramming, and status updating. They're influencers.
Despite having access to all this information, far too many brands fail to make authentic connections with these women. According to a recent report, 42% of Millennial-aged mothers believe that "most advertising and marketing is not geared toward women like me."
No matter what the latest PowerPoint decks and pie charts tell you, there is no categorical, one-size-fits-all, insta-connect button for Millennial moms. What they want are purposeful relationships with people (and sometimes brands, too).
Just as each mother is different, so too are the dynamics of her relationships: with her children, her partner, her sister, her mother…all the personal connections that give her support, make her stronger, make her smile, give her life purpose, and drive her daily decisions.
Relationships matter. And it's this bond with mothers – not the generalized facts and figures about their Millennialness – that should guide a brand in making authentic connections with them. Every day at Hallmark, we partner with a community of some pretty remarkable Millennial-aged mothers. We explore and celebrate their stories. Stories of motherhood, friendship, marriage, laughter, joy, heartache, love. Each of these women hails from diverse cultures, income levels, and backgrounds. And each has her own story to tell.
It's women like Anita, Amanda, and Chantal. Women who open their lives and hearts to us, who work hard to be our brand partners in incredibly creative ways.
For example, we asked a small group of moms to take a photo of their every waking hour over a 24-hour period. Over 500 photos later, we got unfiltered glimpses into moms' lives— everything from toddlers crawling up staircases to a woman who worked out one hour and the following hour made a trip to purchase donuts.
Yes, these women do share common characteristics—like age and comfort level with technology—but they have their own stories that are shaped by personal relationships and experiences. For companies like Hallmark, embracing the power of relationships can reveal the individual diversity of Millennial moms and inspire authentic, relevant connections with brands, products, and services. (For more on Hallmark's relationships with moms, click here.)