Lululemon This is Yoga Marks First Global Brand Campaign
You can't partake in a yoga class without seeing a student wearing Lululemon yoga leggings or other branded gear.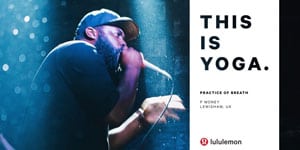 Lululemon has built its billion-dollar business on the mindfulness and tree poses of its legions of fans and brand ambassadors who, as quick as you can say Namaste, spend hundreds of dollars on its fitness apparel. But those fans wouldn't have seen a TV spot or other paid advertisement—that is until now.
After 20 years growing its business, the time has come for the yoga-inspired athletic apparel company to release its first global brand campaign. In addition to its legions of fans, legions of other apparel marketers have been pumping out leggings and other fitness apparel resulting in weak sales for a few quarters.
On a quest to reach new customers, the Lululemon This is Yoga campaign is its answer. The strange part though, is that there is no yoga practiced in the spots. Instead, the campaign features seven personalities, including Kerri Walsh Jennings, the Olympic gold-winning volleyball champ, who show real stories of how the practice of yoga can be put into action in the viewer's lives—outside the yoga studio. Walsh Jennings shares in a video how she uses self-discipline to accomplish goals on the volleyball court. Others in the campaign include Brooklyn-based artist CJ Hendry; drummer Atom; Mexican dancers House of Apocalipstick; Vancouver Capoeira athlete and instructor Jian Pablico; London rapper P Money (above); and U.S. surfer Maddie Peterson.
The campaign launched on Monday and includes video, in-store, digital and out-of-home. Read the article
Related articles:
McDonald's Launches Unbranded Campaign