How to Translate Your Brand's Visual Identity From Digital to Real Life
Adding an experiential element to your marketing strategy requires you to think beyond what you're presenting to your audience and how they will experience it. Take these three steps when bringing your brand into the physical realm, and you'll have a better shot at capturing and holding your audience's attention.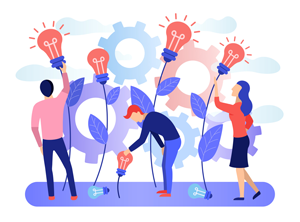 1. Look beyond logos to find your true brand representation. When clients are asked to show their brands, they typically give logos and tool kits. But these are merely graphic translations of your brand. When a client describes the brand and what it represents, its distinct character can be distilled. Take note of how you describe your brand—few others experience the company on such an emotionally visceral level. When you've reached that core, you'll see the story.
Heineken accomplished this masterfully through its "Worlds Apart" campaign, which presented a truly human encounter that illustrates how experiences can work successfully in tandem with digital marketing.
Heineken brought together three pairs of strangers with contrasting views. As the strangers worked together, they eventually found common ground showing that there's more that unites than divides us. The brand garnered praise for its ability to strike an authentic chord with audiences. In a culturally and politically divided age, Heineken saw its product as more than a beverage, but something that represents solidarity. It captured this idea (and convinced many others of it) through a campaign that, while digital, felt experiential.
2. Tell your story, not someone else's. You may have experienced a wildly quirky event hosted by another brand, but that doesn't mean you should imitate it. This is your chance to tell your unique story, and consumers are looking for something new and real. They'll sniff out a fake from miles away.
Combine different factors to convey a brand's unique style and story. You need to understand not only your brand identity, but also your target demographic, the context and location of the particular program, your objectives, and your budget.
When these things come together, you create a "micro-brand" of that event in that unique moment in time. It's your brand and the brand of your unique project that creates an entirely new experience for consumers. This array of factors will naturally form your unique story. There's no need to force an edge when a little patient work will sharpen a more compelling one.
---
Other articles you might enjoy:
---
The recent winner of SXSW's Best Immersive Experience award offers an excellent example of inherent uniqueness. Together with Japan's Ministry of Economy, Trade and Industry department and other partners, artist Yoichi Ochiai created The New Japan Islands—a project that included multiple activations reflecting scenes from Japan. The experiences were based on Japanese culture, but the activations painted a futuristic picture, showing that revisiting origins can help create a future that better connects industry with culture.
3. Elevate your creativity to tie your canvas together. Successful experiential design must reach beyond beauty. To create an experience that's immersive and effective, engineer it for execution and build it with an awareness of the larger brand narrative, objectives and budget. The experiential program shines in its own right and sheds new light on the brand.
Think of designers as more than artists. They're also inventors, planners, and mechanics—they must bring all the parts together. When consumers enter the design space, their experiences are ultimately based on how they want to interact with the space. It's up to the designers (and producers, strategists and larger team) to cast the space as a canvas that communicates the best takeaway for the brand in that specific program.
Refinery29 has been perfecting this for the past few years with its 29Rooms event. Perusing 29 individually branded rooms, visitors encounter the Refinery29 brand from many different angles. Rooms are built with brand partners and centered around a theme. For 2018's theme, "Turn It Into Art," invited guests used the surroundings and contents of each room to create something of their own. An immersion like this leaves an indelible mark on those who experience it and deepens engagement with the brand.
As more consumers seek these types of experiences, brands that find new, direct ways of captivating will stand out. Through marketing in the physical realm, you have an opportunity to tap into that deep desire for experience that's so common today. On the stage of these experiences, you can bring your brand to life.
Lauren Kehoe is the creative director of NVE Experience Agency.