How Cloud Computing Brand Nutanix Created Virtual Engagement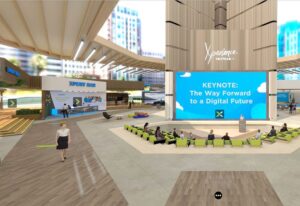 With industry shows and events still on hold for the most part, B2B brands, such as cloud computing software company Nutanix, have turned to virtual experiences to engage with prospects. Seeking to interact with attendees in a more meaningful and immersive way than a webinar typically provides, the brand created The Nutanix Xperience, a half-day experience with multiple touchpoints. Following are the key details of the virtual event, which reached more than 3,000 attendees, according to a piece in Event Marketer.  
360-Degree Views
The environment was created in 3D Studio and exported to Pano 2VR, allowing for 360-degree views. Attendees encountered a registration desk that included a welcome video and tutorial on how to navigate the space, an agenda, an event map that included various zones and a survey.
Multiple Zones
Attendees navigated through different areas using a drop-down menu or navigational arrows. The zones included a general session theater with a keynote, a real-time Xpert Bar where attendees could ask questions about products, instructor-led courses, a networking terrace and a BBQ pit that included a demo and downloadable recipe from celebrity pitmaster Aaron Franklin of Franklin Barbecue in Austin, Texas.
For additional details on how Nutanix engaged prospects virtually, including through gamification and on-demand content, read more in Event Marketer.