HCL Technologies Tests Campaign With Data-Driven Personas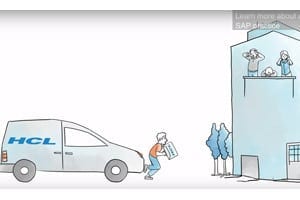 A couple of months back, HCL Technologies experimented with a new marketing automation tool to engage certain customer personas for a SAP S/4HANA suite of products in North America.
HCL had certain specific goals in mind. First, it wanted to customize messages for each member of the buyer persona. Each stakeholder has his or her own challenges and concerns and HCL wanted to focus on their specific pain points. For instance, target clients were divided into three segments: 'First To Adopt New Tech', 'Doesn't Prioritize Tech' and 'No Time for Downtime' and then messages were tailored for each of these client groups.
Next, messages were tailored based on their previous interactions with HCL, even as customers moved from email to the website to social media. The idea was to integrate all marketing channels and convert a series of one-off experiences into an ongoing dialog. Finally, some serious number crunching and analytics needed to happen to get real-time, actionable insights.
HCL ran integrated data-driven persona based campaign across all channels and customer touch points for North American SAP S/4HANA customers. It's early days yet, but the results are quite encouraging. Traffic to the website has doubled and the number of downloads have grown more than 10 times in the last two months. And the company is already in discussions with some of the targeted customers. 
The Fifth P of Marketing
Anyone who attended marketing 101 classes knows about the four P's of marketing—Product, Price, Promotion and Place. But there is also a fifth component, data analytics. According to Forbes Insights latest survey, a whopping 64% of executives surveyed "strongly agree" that data-driven marketing is crucial to success in a hyper-competitive global economy.
And no data-driven marketing operation would be possible without advanced marketing automation tools, and new processes and approaches to data and decision-making. We need marketing and analytics software to get a full 360-degree understanding of each prospect on an ongoing basis. That's the only way to send the right message to the right people at the right time. And then measure results to check if we are getting the desired results.
Why Do We Need Tech Budgets?
And it's not such a big deal. We, in marketing, are getting what finance, HR and procurement received a long time ago — a tech budget. We absolutely need the tools for predictive analytics, machine learning and behavioral insights to effectively engage the right customers at the right time via the right channel.
Consider HCL's data-driven persona based campaign for SAP HANA customers, for instance. Could it have been done properly without the right tech and tools to integrate all our marketing channels, from web to email to social media? Would it be possible without a tech-savvy team of marketers, who understood how to use the tools, crunch numbers and data? Clearly, a modern marketer can't do much without investing in tech and tools.
These investments are already paying off, according to the latest survey of the Association of National Advertisers. Top performers in the survey valued automation as a critical tool to deliver consistent and personalized customer experiences. They also understood the customer journey better than their peers and had better processes for capturing customer data and providing insights to their marketing programs.
Matt Preschern is the CMO of HCL Technologies.
For more on getting the most out of your marketing tech investments, see our new special report, Optimizing Marketing Data.