Green & Black's Chocolates Live Events: Part Focus Group, Part Lead Gen
Green & Black Organic Chocolate has three flavor suggestions (from among its 13 varieties) for chocolate lovers who feel like kids again when they eat chocolate, who prefer sporty dress styles and who like to spend their leisure time networking.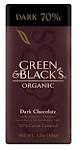 The company also has three suggestions for chocolate enthusiasts who prefer Rieslings to sauvignon blancs, like iguanas more than cats and would prefer to while away their idle hours watching indie films.
How is Green & Black determining which consumers possess these attributes? It's asking them, both through a series of quick surveys administered at live events and through its Facebook page. To sweeten the pot, the company is offering discount coupons as incentives to try its products. And all consumers have to supply is their dates of birth and e-mail addresses.
"The Facebook page is where we are looking have our two-way dialog," says Nicole McLaughlin, marketing director for U.S. Chocolate at Kraft Foods, which counts Green & Black among its brands.
Nearly 80,000 fans have joined that dialog by "liking" the Facebook page, although some may have been spurred by a variety of sweepstakes, such as a chance to win a trip for two to New York City that includes dinner at the James Beard House.
Green & Black also brings chocolate lovers to the table by staffing booths at epicurean events, such as Bon Appetit magazine's Uncork'd in Las Vegas and the Food & Wine Classic in Aspen, CO. The host companies recruit consumers through their publications, as well as online, through social media channels and even television. Those attending are likely to fit the Green & Black customer profile of upscale gourmands.
Chocolate enthusiasts visiting the Green & Black booth at these events are encouraged to sample all 13 products, to take the same quick survey hosted on the Facebook page, and to visit the Facebook page itself.
"We take them through a series of fun, interactive questions to see which [varieties] are best for their personality," McLaughlin says. At these events the quizzes are administered on iPads, and "taste guides" are on hand to assist consumers not familiar with the technology. Green & Black has found that completion rates soar when the taste guides supervise the quizzes.
Regardless of where participants fill out the survey form—online or at a live event—they are rewarded with a coupon. Green & Black has coded the coupons to determine which channel is more likely to drive purchases.
What does Green & Black do with the information it collects? Copies of what McLaughlin calls "their chocolate horoscope"—suggestions of three varieties that best match their personality—are e-mailed to them. And they are then invited to join the Facebook community and comment on a variety of topics, including their favorite flavors, the value of "fair trade" products, and their favorite chocolate-inspired recipes.
Green & Black's outreach efforts are going to remain digitally focused for the time being: The company has no plans to branch out into direct mail, although it does run its own advertisements in food magazines. Once the live events tour ends in October, the company will start analyzing each coupon distribution channel. It will also launch a digital campaign during the fourth quarter, in the hopes of driving more fans to its Facebook page.