FX Engages Comic-Con Attendees at Home With Digital Interactivity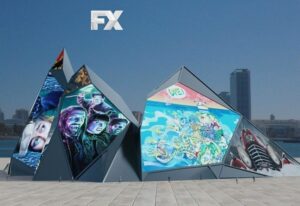 The annual Comic-Con International: San Diego convention provides a rare opportunity for superfans to get up close and personal with their favorite stars in entertainment by way of celebrity panels, talks, screenings and autograph signings. But this year, with in-person events shut down, brands have had to shift gears and interact with fans through the convention's virtual platform, ComicCon@Home. For FX, which typically has a presence at the show, that meant creating interactive elements for fans online, according to a piece in Event Marketer.
The network's marketing team strove to create an experience with elements that were new and exciting as opposed to "less than" what an in-person experience would entail. It began with a microsite dubbed FX Unlocked, which included a CGI landscape of the San Diego harbor. Visitors to the site could interact with a 3D FX installation and experience sound effects simulating seagulls and wind.
Each show FX was promoting had its own landing page as well. The "American Horror Story" section allowed fans to navigate through scenes and test their knowledge. The network's series "Dave" included an exclusive Q&A, and "What We Do in the Shadows" offered up a single-player interactive game with an opportunity to win a deck of cards for earning top scores.
For more details on FX's creative digital activation for Comic-Con fans at home, read more in Event Marketer.
---
Other articles you might enjoy:
---