Equipment Depot Rebrands to Become More Human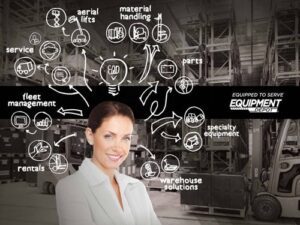 A major rebranding helped Equipment Depot create a human connecting in an B2B industry not known for being warm and fuzzy.
Equipment Depot offers fleets of rental equipment such as forklifts, pallet jacks and scissor lifts, as well as used equipment for sale. There are several challenges to marketing in the industrial handling industry, notes Hue Du, vice president, marketing and communications. The industry is slow to adapt to change and there isn't a lot of sophisticated marketing happening. "We were doing minimal branding and messaging, and there wasn't a lot of connection with customers," she said.
Du knew if she could uncover the brand's potential, there was an opportunity to lead the pack and grow the company. Branding agency Think Versatile was brought in, to help establish the brand story and its unique selling proposition.
To begin the journey, internal buy-in was essential but it wasn't an easy process. "The industry was not in a rush to change," says Du, who spoke at the recent ANA Masters of B2B event in Chicago. "When I started here, Equipment Depot's idea of marketing was a brochure."
---
More on B2B Branding:
---
The company, which has 35 locations across 13 states, has been in business since 1951 and prides itself on providing localized service on a large scale. The brand needed to break the mold and show how it was standing behind that commitment.
The logo couldn't be changed, but its look was able to be modernized with a black and white color palette and the tagline "Equipped to Serve." In brochures, instead of portrait style images, more luxurious landscape images were used.
And in a move that felt revolutionary for the industry, a woman was put on the cover of the brochure. Internally, there was concern over whether she was supposed to represent a salesperson or a customer. But that didn't matter, argued Du: She was a thoughtful businessperson thinking about the solutions Equipment Depot provided.
"It was more of a soft touch and no one does that," she said. "It made us standout from a sea of grungy guys in hardhats."
Feedback from customers was positive feedback from customers. "It helps us gets our foot in the door, with a layout that walks customers through who we are and what we do," Du said.
While some sales reps still think the brochure is "too nice," the impact is being felt in demand gen and from the industry, she said. "Other dealers and original equipment manufacturers are copying us, which is a great compliment. We now have a compelling brand in the marketplace."