Email Templates Help Ohio State Create Consistent Branding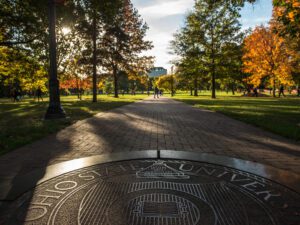 Creating modular email templates helped The Ohio State University improve branding consistency across the entire university system.
"It was challenging trying to maintain consistency sending email," notes Bri Loesch, associate director of email marketing for the university. "We had tens of hundreds of looks and feels."
There were numerous challenges. The messaging had varying levels of mobile responsiveness, and there were numerous issues with emails rendering properly across different devices.
"They weren't user friendly for our email pracitioners, and our audience was left wondering if these emails were all coming from the same university," says Loesch, who spoke at Litmus Live in Boston recently.
The university wanted to create one visual identity, and make sure that no matter where in the organization the message originated, it had a consistent look and feel.
Loesch wanted the email templating initiative to be collaborative, and driven by the Ohio State email community. Users across different departments were surveyed, to discover what their challenges were and uncover why brand standards weren't being followed. "We wanted to make sure we could provide support," she says.
---
You May Also Enjoy:
---
Then, focus groups were created to take a deeper dive into the best ways to address core issues. Past emails were also audited, to identify which of the existing templates were used the most often, and see what types of messaging and modules were the most commonly deployed.
The team wanted the new modules and templates to be easy to modify, with numerous possible combinations. And, at same time, Ohio State was also transitioning to a new marketing automation tool, so an easy transition to dynamic content that could be plugged in without the risk of broken code was also a consideration.
"We wanted to allow for flexibility, but wanted to have some requirements in place, for consistent look and feel," Loesch notes.
Two basic requirements were that every message had to have the same masthead and footer designs, with the primary university logo at the top. The footer could include the unit's secondary logo if desired, and had to include typical required footer information, such as the address and a preference management link.
An email toolkit was created to assist departments in using the new templates, including brand guidelines, a quick start guide and a landing page explaining the modular design.
"Because of various skill levels, we wanted to provide every module configuration they might need, in regards to text and image placement," she says. "We also wanted to make sure people understood the why behind what we were doing and why brand consistency and accessibility are important to our email marketing efforts."
The university adapted to the new system quickly: in four months, there was 96 percent compliance with the new templates.