Ecommerce Study: Consumers More Likely to Shop Deal Days During Holiday Season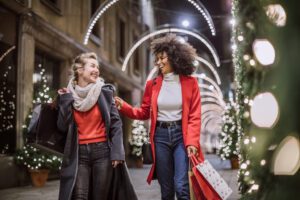 Retail marketers, it's your time to shine. We're entering the busiest shopping period of the year, and discretionary holiday spending is projected to increase by 5.2 percent compared to the 2018 holiday season, according to FTI Consulting's 2019 U.S. Holiday Retail Forecast.
But there's an increased sense of urgency present this year, due to the fact that the holiday shopping season is a full six days shorter than the amount of time consumers typically have to shop deals in between Thanksgiving and Christmas. The effect, according to Multichannel Merchant's analysis of a CommerceHub survey, is that consumers are relying more heavily on buying gifts on the major deal days, like Black Friday and Cyber Monday.
---
Other articles you might enjoy:
---
The ecommerce platform's survey, which fielded responses from more than 3,000 consumers, revealed that the majority, 68 percent, said they were very likely or somewhat likely to take advantage of the major shopping deal days. That's a 25 percent increase year over year.
A top priority for consumers, regardless of whether they shop online or elsewhere, is having plenty of options. Other expectations include delivery, excellent customer service and personalization. Additionally, despite all the attention that direct-to-consumer sales is getting, shopping within marketplaces like Amazon (69 percent), Walmart and eBay are favored by consumers. (Sorry, Nike.)
Some other interesting data for marketers: Influencers will continue to be influential when it comes to dictating consumer purchase decisions, with 63 percent of respondents very likely or somewhat likely to take their recommendations. And, it's important for retail marketers to consider providing environmentally-conscious shipping and delivery for consumers. A whopping 83 percent believed it was important.