COVID-Friendly Experiential Marketing Ideas for 2021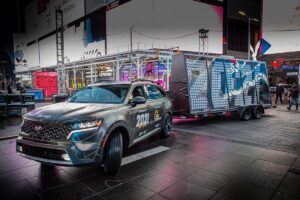 Despite current limitations placed upon live, in-person events, the experiential marketing world has offered up creative solutions to the world's new rules of engagement. The industry has pivoted to producing mobile and multichannel experiences. Here are several steal-worthy ideas for marketers seeking inspiration—from road trips to home-based marketing kits to e-gifting, according to Event Marketer.
Road Trips
Automotive brands have long used road trips to take consumers on the open road, demonstrate vehicle features and craft stories while hitting up local markets. And this tactic continues to work in COVID times. For instance, as sponsor of the 2021 New Year's Eve Countdown in New York City's Time Square, Kia used the tentpole event to highlight a 5,500-mile road trip promoting its new Sorento SUV that begin at its Irvine, CA, headquarters. The tour made stops at local dealerships in 15 states and, once in New York City, made its debut on Dick Clark's New Year's Rockin' Eve with Ryan Seacrest on ABC.
Home-Based Marketing Kits
Meeting consumers where they are—which is, for the most part, in their homes—is a strategy consumer-facing brands have employed with some success. Take IKEA, which sent consumers free "Gingerbread Höme" kits that included edible versions of the brand's furniture. Assembly instructions were included, of course, and participants were invited to post pics of their creations on social media with the hashtag #IKEAHoliday.
For more pandemic-friendly, experiential campaigns, from the likes of BABE Wine, White Castle, Taco Bell and others, read more in Event Marketer.