Cost Plus Uses Pinterest Contest to Show Off New Collections
Cost Plus World Market ran a summer Pinterest contest that sent players in search of its products to create a pinboard. It's a good fit, particularly for retailers since they can take players around to show off their wide variety of goods.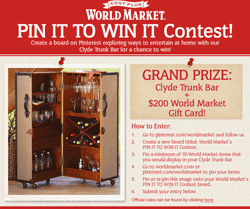 To play, people created a Pinterest pinboard named "World Market's Pin It To Win It Contest." The board had to include an image of the "Pin it to Win it Contest" pin featuring the Clyde Trunk Bar that could be found at World Market's Facebook page, and 10 additional pinned images of World Market items to include in the trunk.
Pinners browsed products they wanted to select at www.worldmarket.com and http://pinterest.com/worldmarket/pinboard providing a way for the brand to get consumers to view its offerings, including new collections, as players moved around the sites to locate the minimum 11 images that had to be pinned to the board. Viral share works well here as well since pinners can share images with their friends.
"The goal is to create awareness of our new Kingdom Animalia Collection, designs inspired by Africa and beyond, which features stylish and affordable items for home décor, entertaining and gifts," Marissa Durazzo, Cost Plus World Market's director of partnerships and promotions, said.
Players then headed to the World Market Facebook page where they liked the page and then clicked the contest tab to complete the entry form. The contest ended Aug. 10.
The boards were judged on creativity, positive representation of the brand and uniqueness. One grand-prize winner received one Clyde Trunk Bar and one $200 World Market gift card, valued at a total $849.99.
The Pinterest contest was promoted on World Markets's Facebook page, as well as through press releases, sites, email, bloggers and other social media sites.
Since first discovering in February 2012 that Pinterest was a good marketing tool, World Market has run two contests that featured unique seasonal items for Easter and Valentines Day with the response to each improving over the last. The "Pin it to Win it Contest" drew an 87% increase in entries over the prior contest.
"We view Pinterest as a way to engage with our customers by featuring new collections, including images that inspire us (and our customers), and offering promotions," Durazzo said. "A couple of our popular boards include our "Inspiration by Members" or "Blogger Creations," which showcase how our customers display, use or repurpose our products. We're continually amazed by our customers' creativity."
Like other social platforms, finding a direct link between a promotion on Pinterest and sales is challenging and following Pinterest best practices can help.
"We can measure online sales by product links to worldmarket.com but our main objective is to engage with our community in a fun and creative way," she said. "Because social media plays an important factor in buying behavior, it's important for us to engage with our online community on a daily basis. Social media allows us to have conversations with our customers, not just giving our brand a voice but also listening to them so we can continually refine our marketing strategy to address their needs."