CM Asks….What's Your Favorite App?
In today's world, marketing is mobile. We asked four top marketers for their thoughts on the best personal and professional uses of mobile media.
Keith Weinberger, senior vice president, marketing, Empire Today
Most meaningful way your company uses mobile: Undoubtedly, responsive design for mobile phones and tablets, which allows potential customers to come to our site easily and quickly to set an an in-home appointment.
Favorite professional app: JusWrite, a To Do list/organizer that uses your handwriting via stylus to jot down tasks and then organize them easily.
Favorite personal app: Scramble.  It's made by the same people as Words with Friends and has three timed rounds per game, which makes it faster and more interesting.  I play against my wife, who's a lot better than I am!
Mobile device of choice: Samsung Galaxy Note II.  Its big screen, speedy processor, serious battery, and yes, even the stylus, suits me well.
Ryan Bonifacino, vice president of digital strategy, Alex and Ani
Most meaningful way your company uses mobile:  Unlike other retailers, we didn't rush to release responsive projects, apps or in-store mobile/tablet experiences because we weren't satisfied in a "check-the-box" approach.  We are set to release a mobile experience in Q4 that will the customer to educate themselves and others on the meaning behind our brand holistically and at the product level. 
Favorite professional app: Feedly for my own customized portal to select and personalize content and news I need to consume to stay on top of the industry.
Favorite personal app: Uber. I am an addict.
Mobile device of choice: My iPad Mini because it provides ultimately portability in "supertasking" without size restrictions.
Meagen Eisenberg, vice president, demand gen, DocuSign
Most meaningful way your company uses mobile: Like our customers, we use DocuSign to complete mission-critical business processes and transactions every day on mobile devices throughout our business to accelerate transactions, reduce costs and improve security and compliance.
Favorite professional app: Go-to-Meeting and Concur.  Both apps have been designed for the mobile user with utility and functionality in mind. The primary use cases and user flows are spot on, and the UI is clean and simple to navigate.
Favorite personal app: Uber and Houzz. I love Uber because it knows where I am and how close a car is to pick me up. And Houzz is  just a relaxing way for me to browse while I am in line, waiting for the train, or need to kill time and it is easy to save ideas for a future house remodel.  
Mobile device of choice: I'm a loyal iPhone user—Apple's product quality and service standard are hard to beat. But I have started to think that I may try an Android device one day.
Joergen Aaboe, director of marketing, MomentFeed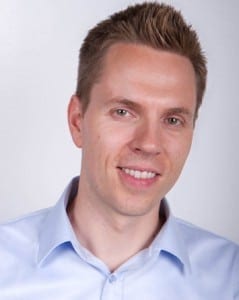 Most meaningful way your company uses mobile: We offer a mobile app that let's store managers capture great content at their locations and share that to the corresponding local social channels and engage with their customers in real-time.
Favorite professional app: I love how easily I can keep track of my expenses and receipts through Expensify's mobile app.
Favorite personal app: Instagram. The simplicity and focus on real visual content is brilliant. More importantly though, Instagram really lets us all capture moments that are special to us.
Mobile device of choice: I'm an iPhone guy. There's nothing I feel like I need to do that I can't do with my iPhone 5.