Chico's FAS Runs its Cause Program Locally
There's plenty of work being done on a local level and Chico's FAS Inc. is no exception.
Chico's family of brands—Chico's, White House Black Market, Soma Intimates and Boston Proper—began last month its take-three of "May is For Miracles" campaign. The program operates out of local stores by offering communities a number of ways to raise funds for a local Children's Miracle Network Hospital.
"While it's kind of national in scope, this is very much about shopping in the local areas where our customers live and work," Jessica Wells, vice president of social media marketing at Chico's FAS, says. "It's a different way of looking at a big corporate charitable partnership."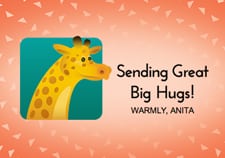 One of the more intimate parts of the program, which was first introduced last year to great success, works locally on social. "Send a Smile" offers a way for people to create a greeting card (right) that is printed and delivered to a child being treated at the sender's choice of a local CMNH. A card is selected, then customized with characters, backgrounds and messages and "signed" by the creator's first name and last initial. An important component of the tool allows people to share the experience through Facebook, Twitter, email, Google+ and Pinterest, which brings exposure to the brand, the cause, and because each card created triggers a $1 donation up to $50,000.
"We chose $50,000 cards because on any given day approximately 50,000 kids are in the hospitals," Wells said.
Last year, 53,000 cards were created through "Send a Smile"—handled by ePrize—with some pockets of local activity far outpacing others. For example, large quantities of cards were created for the CMNH in Los Angeles, John Hopkins Children's Center in Baltimore, MD and Helen DeVos Children's Hospital in Grand Rapids, MI.
"We use social media to make a difference in children's lives, but keep it distinctly local," she said. "Social media can be such a powerful way to spread the word about these cause-marketing initiatives and one of the main points were trying to drive is that the more people that share the message the more cards that get created."
Each of the four Chico's FAS brands offers distinct ways to spread the message locally as well as nationally. Last month, Chico's began selling limited edition Miracle Bracelets and White House Black Market offers the Creating Miracles Bracelet. Both bracelets are being sold in boutiques, outlets and online for $20, with $10 from the sale of each bracelet benefiting a local hospital.
This month, Soma Intimate's will donate 50% of the proceeds from its Sensualities Collection—up to $20,000—and Boston Proper will donate 10% of the proceeds from its Travel Collection—up to $15,000—to the local Children's Miracle Network Hospitals.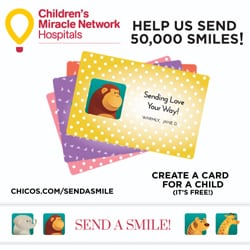 Across the country all of the stores will provide handouts, use floor signage and email blasts and social media outreach. Marketing support for "Send a Smile" in particular was the company's largest effort across all four brands and one of its biggest social marketing programs corporately, she said. Customers can also make donations at any of the retailer's 1,250 boutiques, outlets or online through May 18 when the campaign ends.
"We put the power of the store brands behind helping to spread awareness of Children's Miracle Network Hospitals and what they do," Wells said.
Last year, Chico's FAS raised more than $1.3 million for the 170 CMNH. Since 1983, CMNH has raised more than $4.7 billion for kids, most of it $1 at a time. The donations go to supporting research and training, purchasing equipment, and paying for uncompensated care, all in support of the mission to save and improve the lives of as many children as possible.