Championship Data Analysis Fuels Boston Celtics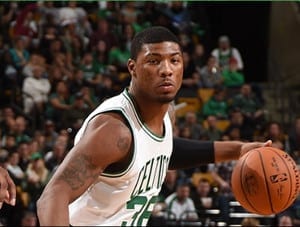 A loyal fan base and targeted data analysis helps the Boston Celtics build relationships with season ticket holders and maintain an impressive 60% email open rate.
The Boston Celtics have an inherent intangible brand value. But while they revel in their deep tradition, they work hard to make sure the brand doesn't get stuck in the past, noted Rich Gotham, team president, speaking with Jeffrey Hayzlett at the C-Suite Network Conference in Boston on Monday.
Professional sports is a high touch environment where customer service is important, he said. "There's enormous value in treating customers like family."
The basketball team maintains a sophisticated database marketing operation, with ongoing outbound telemarketing and emails efforts operating on a regular basis. "The team knows how to slice and dice our audience and sell the right product to the right people," said Gotham.
For example, at this point in the year, the Celtics marketing team is looking at season ticket renewals on a daily basis, considering variables from the particular sales rep working with the customer, to how long the fan has held a ticket or where their seats are in the building. For regular ticket sales, a real-time pricing dashboard looks not only at internal sales but secondary sales sites, to help the team move seats right up to game time.
One of the biggest indicators for season ticket holder renewals is how often the fan uses their seats. Customer experience officers sometimes visit fans at their seats prior to games beginning, to say hello and see what is going on, especially if the fan has missed several games in row. Whether someone uses their seat themselves, or passes them along to someone else is also tracked.
"Knowing this stuff is important," he said. "Feedback allows us to do what we need to do to connect with customers."
While the team does want to of course sell tickets, decisions are made not only for profit margins but to win championships. "When you [invest] in the Celtics, you're buying into a team," he said, noting that as investors are typically local fans, they have an emotional investment as well as a financial one. "We've had years when we've won championships but lost money."
Gotham urged the audience to be true to their principles and try not to do things based solely on short-term pressure. The Celtics try to communicate to both investors and fans their strategy of building a championship team which doesn't always happen immediately.
"When we're in a rebuilding year, we need to be more creative at engaging people," Gotham said. "You need to understand the fan base."
Boston fans are educated on that front, he noted, adding that cities that don't have a winning sports team tradition might be more transient.
And of course, Boston fans are also very vocal, which means it is essential that the team have a strong voice to communicate with the customer. This falls to both marketing and PR. "You need to be proactive and engaged with your fan base," he said. "It's an intensely personal business where people will volunteer information to us. They'll answer 20 questions on a survey—and then write three paragraphs."