How to Post Relevant Content On July 4
Marketers, check your calendars … your content calendars, that is. Independence Day (July 4), is around the corner and if you have a generic "Happy Independence Day" message combined with a stock photo of an American flag or fireworks, you have a problem.
The fine line between brands that are celebrated and those that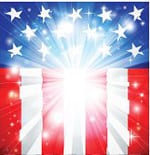 draw ire and on July 4 is especially delicate. But it's not just this holiday that bears special reflection. Whether it's a mainstay national holiday or the obscure holiday de jour, it's no secret that brands have come to frequently rely on a tempting content calendar crutch: posts about holidays.
It's an Epidemic
If you missed the widespread coverage about National #PancakeDay, #NationalBurgerDay or #StarWarsDay chances are you didn't miss much. Brands have come to rely on these semi-holidays as ways to bulk-up or fill in content calendars when they don't have much else to say to consumers. The success of such efforts varies widely, sometimes striking a chord with consumers and sometimes falling flat. Occasionally, these messages are found to be offensive or intrusive, as SpaghettiOs found out with its mascot-adorned Pearl Harbor Day post. Stone Brewing also found out the hard way when it tried to work craft beer into Memorial Day.
While these may be extreme examples, the reality of brands watering down their content is an issue that undermines the success of content marketing. In 2015, 69% of content marketers will create more content than before, but over half struggle to produce content that actually engages their communities. That leaves a whopping 89% of content marketers focused on creating more engaging, higher quality content in the next 12 months.
Some brands are also falsely optimizing their content strategy based on what gets the most engagement (likes, comments and shares) or viral reach. While these metrics can be an early indicator of what resonates with an audience, pandering content tricks can easily outperform hard-working brand-building content. Obviously, the click of a 'like' button is not, in and of itself, delivering return on investment.
However, some brands see that posting about widely recognized or obscure holidays garner a lot of engagement and thus reach the conclusion that those posts are good for business. Given that many times brand positioning and messaging are far removed (or non-existent) from these posts, they tend to be very popular but not very lucrative. As such, it is important to analyze success 'beyond the like' to truly understand what impact content is having on your business.
Creating Better Holiday Content
Here are three brand case study examples used to achieve July 4 content greatness:
Consumer-Inspired: Cracker Jack's The Surprise Inside
Cracker Jack re-launched its brand to a Millennial family audience by putting consumers at the center of its "Surprise Inside Project" campaign. The initiative launched leading up to July 4 and included a Facebook app and microsite where fans could recognize loved ones with delightful surprises delivered to them personally. Cracker Jack increased its relevance through a sponsorship of Macy's 4th of July Fireworks Spectacular and a partnership with Major League Baseball—two key Americana iconic forces.
Data-Driven: Smirnoff July 4 Party Play
For Smirnoff U.S., July 4 (and the days leading up to it) represent one of the brand's biggest peaks in sales during the year. By examining search engine and social media data, the brand realized it had an opportunity to engage Millennials using social media to connect with this market segment where they were already capturing and sharing the festivities. The brand created content about group occasions and easy-to-mix drinks that were disseminated just as data historically showed consumers got interested in the content. Record-breaking results demonstrated the brand's success: 30 times more engagements on Facebook, 24% uptick in Instagram followers, 90% more interactions on Vine and Twitter than average. And once again, the biggest sales days of the year.
Conversation-Led: Newcastle Brown Ale's If We Won
It's no easy feat to sell British beer on U.S. Independence Day, so rather than piggyback on an existing existing conversation, Newcastle Brown Ale started a new one: What if Britain had won the Revolutionary War? The brand created a series of 16 pieces of video content (including a fake apology to upset consumers) in this tongue-in-cheek campaign and created a new holiday called Independence Eve on July 3. Over 3 million views later, the videos were successful in drawing attention to a foreign product around a very American day.
So, back to checking your content calendar. What is your brand scheduled to do (not just say) on July 4? Does it pass Holiday Content Test muster, or does it qualify as something your brand shouldn't really be posting on July 4? Your community has its eyes on you.
Ben Grossman is vice president, strategy director at Jack Morton Worldwide.