Articles by Jean-Guy Faubert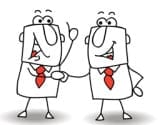 When it comes to influencer marketing, the pay off can be big, but so can the risks.



Chief Marketer Videos
Check out this replay of crowning the winners of the 2022 Chief Marketer PRO Awards, which began with a lively conversation between two PRO Awards judges, Visible CMO Cheryl Gresham and Disney Parks' Senior Manager, Multicultural Marketing, Angela Burgin Logan.
SIGN UP FOR UPDATES!
Fill out the fields below to receive the latest news and special announcements from Chief Marketer.