A Guide to Success With Influencer Marketing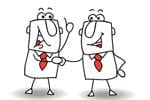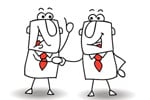 If you doubt the power of influencer marketing, consider this: A six-month-old blog produced by DrumUP published a roundup of social media marketing books on June 11, 2015.
Historically, the blog's average share per post was around 20, but with this post something interesting happened. Within a few hours of publishing the post, Guy Kawasaki, a well-known entrepreneur and social media evangelist tweeted it. It immediately went viral, gathering more than 1,000 shares in a day. That, in turn, lead to a 600% increase in app registrations for DrumUP.
It's amazing how one small action can lead to disproportionately high returns. That's the power of social influencers. It's about their audience and the trust they've built up, where even the simplest recommendation can lead to sales.
The Benefits of Influencer Marketing
Here are some additional points to consider.
1 – You'll reach new audiences. Building up your audience is not as easy as it used to be. There's so much content being put out these days that if you start from scratch, it's going to take a long time to see decent results.
2 – By partnering with an influencer, you gain access to their audience. This could mean up to hundreds of thousands of people you would never have reached otherwise. Getting 1,000 shares in a day may not seem abnormal, but for DrumUp it was—remember, they were only six months old. Without that tweet from Kawasaki, it might have been many more months, even years, before they could build up an audience to get that kind of traction on a post.
3 – You get instant trust. When an influencer recommends your product or service, they're transferring the trust they've built up with their audience over to you. In fact, 74% of consumers rely on their social networks to guide their purchase decisions, according to Sprout Social. And that number rises to 91% for B2B purchases, according to the Incite Group.
That makes word-of-mouth way more powerful than most marketing tactics. Why? Because humans trust other humans. This holds true when an influencer recommends a product. Their followers trust them, and they trust their recommendations of products to buy.
4 – Expect a high ROI. This combination of new audiences and trust leads to higher conversions. You could see much higher ROI than you see with ads or other marketing channels.
Many times, social influencers will recommend your product without compensation, because they like it so much. However, if you do intend to actively invest in influencer marketing, you will pay them a flat rate or a commission.
Pitfalls to Avoid
Before you start reaching out to social influencers, there are a few potential pitfalls to consider.
1 – Unpredictable results. Like any marketing strategy, if you jump into this one without defining what success looks like and how you will measure it, you won't know if your campaign is working. At best, you'll see some success without understanding how much you've invested. At worst, you'll get unpredictable results that you're unhappy with. So, before you begin, create a plan of how much money or resources you're willing to invest, what your goals are and what you'll do if you do or don't hit those goals.
2 – Irrelevance to brand. Just because an influencer has hundreds of thousands of followers, doesn't mean that person is a good fit to promote your product. For example, Volvo hired Chriselle Lim to promote a new car wash solution. Chriselle is an Instagram influencer with more than 700,000 followers who typically posts pictures of her favorite fashion trends, cosmetics and her trips to the Hamptons. So when she posted this staged image of her family with a Volvo and touted the company's ecofriendly car wash solution, it seemed completely out of character. It ended up generating lots of backlash against her and Volvo.
When partnering with an influencer, make sure their values and goals align with yours. More importantly, make sure they have the right audience for your brand.
3 – Skewed compensation. Big brands spend millions of dollars to get celebrities to endorse them. In many cases, it's questionable whether that strategy sees significant returns because it's so hard to track. In some cases, like these examples cited by Forbes, it could even damage the brand. This is skewed compensation — where the social influencer gets to name the price, and it may have nothing to do with sales driven or ROI. A fairer compensation strategy is to tie compensation with results. Commission-based compensation is one way to do it, if you can give the influencer affiliate links.
In some cases, influencers may ask for a flat fee to account for sales that don't or can't go through affiliate links. For example, Instagram doesn't allow links to be placed inside of posts, so influencers over there might ask for a flat fee to post images about your product.
How to Attract Influencers
Influencers who tout your product without compensation are called earned influencers. They support you because you've been good to them and took time to build a relationship. These are more powerful than paid influencers, who only promote you when compensated. As you would imagine, it's a lot easier to attract paid influencers; the price just needs to be right.
If you're going after paid relationships, begin by identifying the influencers you want to partner with, and then send them a proposal. Then, there will likely be some negotiation.
Earned influencers, on the other hand, take some time to cultivate, just like any good relationship would. The key here is to give them value first. Start by sharing their content, linking to them in your posts and mentioning them on social media. This will get their attention, and they'll become interested in your product. Build upon this by engaging the influencer in a conversation — if possible, offline and face-to-face. This is where you wine and dine them. Ask how you can help them. Offer them free use of your product or service. Invite them to your events and promotions as partners and contributors.
At this point, many influencers will start to mention you on their social channels without incentives. If they really love your product, they'll have no qualms recommending you to their followers. What they give up in monetary compensation, they gain by you supporting them and giving them a platform to further build their influence.
Don't Wait to Start
It's a lot easier to attract influencers who aren't already being courted by your competitors. Once they've partnered with another company, it's difficult to get them to switch allegiances because of the promises they've made. Start building those relationships right away and in a few months you'll see returns.
Joe Griffin is the co-founder and CEO of ClearVoice.