5 Tips to Perfect CMO/Creative Relationship
The relationship between a CMO and the creative team can be a match made in heaven, or a match made in hell. If the later sounds familiar, this article is for you. And even if the relationship is great, these five tips are a nice reminder of how to keep it that way.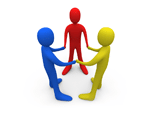 The tips, aimed at the CMO, come from a seasoned creative director, so you're getting the suggestions straight from the mouth of someone who's lived the relationships. If a battle is going on, it's sure to come through in the work so there needs to be change, no matter how difficult.
For example, one suggestion the author makes for the CMO is to "Let go, a little," an exercise that usually leads to breakthroughs. Read on for the full details.