4 Ways to Turn Mobile Marketing into a Customer Service
Mobile browsers are becoming old school as mobile apps take over as the method of choice.
This year, U.S. adults will use their mobile apps 2 hours and 25 minutes per day; that's a 10.3% increase from last year, according to eMarketer. Time spent using a mobile browser is not moving much, holding at 26 minutes per day this year.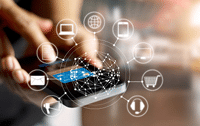 Despite the news that mobile app time is increasing, the number of apps people use is declining as people fine-tune which apps they prefer. Last year, U.S. adults had an average 21 apps on their phones, compared to a projected 20.1 apps this year. Facebook has risen as one of the core apps people are using on mobile with video consumption driving time spent.
Cellphones, of course, are a personal extension of the user, which makes it challenging to strategize and develop mobile marketing campaigns that don't turn off users. The Huffington Post offers four ways to turn mobile marketing into a customer service by personalizing the experiences and promotions and taking the "selling" out of the mix. The author, Christopher Dean, explains how to think bigger than straight-forward promotions, make buying an immersive experience, use relevance to convert and advertisement into an advantage and how to be a resource.
Overall, app time will make up close to 20% of total media time this year in the U.S, eMarketer found.
In the Asia-Pacific region, marketers are taking advantage of the high rate of Facebook app usage among middle- and high-income users. In Q4 2016 in, mobile's share of Facebook ad spending in Asia-Pacific was 88%, at least 10 percentage points higher than any other geographic region worldwide. Europe, Middle East & Africa can in at 78%, followed closely by North America & Latin America at 77%, eMarketer said.
Related articles:
Creating Mobile Apps That Meet Customer Expectations