3 Tips for Keeping Consumers Loyal and Engaged in 2015
As we head into 2015, most key economic indicators are trending in a positive direction. That's good news for the brands and retailers that will benefit from rising consumer spending as unemployment recedes and wages tick upwards.
Of course, getting people to spend that money on your company's goods or services is increasingly difficult. Social media and mobile technology have made it vastly easier for businesses to reach larger swaths of consumers on an individual level. Therefore, as competition gets stiffer, the ability to engender brand loyalty and keep customers coming back may well be the No. 1 challenge many businesses will face in 2015.
In the past, customer loyalty was largely a factor of four basic motivators: convenience, service, pricing and brand identity. These four motivators still exist today, but where they rank and how they manifest are different for each and every consumer. Your customers are online, in stores, active with social media—all of the above, or potentially, only one of the above. Some have families. Some are single. Knowing where, when and how your customers interact with your brand is vital. Understanding who they are and what's most important to them is just as (if not more) critical. Thankfully, all of this knowledge is very attainable—if you know where to look.
Brands finally have the available tools to listen to every one of their customers, to know who they are, and to tailor their offerings and communications accordingly. Here's a few tips to help you gather this knowledge—and put it to work.
Reward More Than Purchases
What do your customers like? Chances are they will tell you. Their answers may come in the form of spend, but they can also come via a Facebook like, a mobile check-in during a big sale, or some other form of engagement not related to sale. Coffee punch cards, coupons, discounts, and rebates are still great, but they're more successful when integrated with a loyalty program that can reach across channels. This helps keep customers active and engaged while providing them with meaningful incentives tailored to the individual.
The loyalty programs of yesteryear were primarily based around purchase behavior. Today, the trend is to reward consumer action. Through these actions, brands can better know—and cater to—customer desires. In addition to the critical customer intelligence, brands are also realizing that a customer's overall influence and advocacy is just as, if not more important, than his or her purchases. Thanks to the proliferation of social media and other online recommendation tools like Yelp or FourSquare, one happy customer can quickly become 10, 100, 1,000 or…well, you get the idea.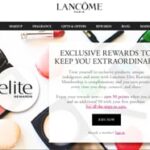 Lancôme is a great example of how one retailer is using technology to reward engagement, and not necessarily just spend, across channels. By giving points to its customers for activities like reviewing a product and reading branded content the brand learns what specific customers like, along with where and how they engage.
So far, the program has been a huge success. According to Lancôme, rewards members spend on average six percent more than regular customers, and signups between April (when the program launched) and August grew by 40% each month on average. If this growth continues and the spending average holds, Lancôme will see business growth directly tied to its consumer loyalty program. Alongside that growth, Lancôme continues to gain a greater understanding of its most loyal customers. As a result, the brand offers customers a better and more personalized experience with each and every interaction.
Identify Your Most Passionate Customers
Knowing your customers is critical to serving them better. And the need to reward behaviors beyond spend is also essential because it gives you access to valuable customer data. But not all customers are alike—some of your customers are also passionate fans of your brand. These super fans not only give you the most engagement and insights about your brand, they often times become vocal advocates and dedicated ambassadors for your brand—especially if you empower them.
One brand that understands the value of these passionate fans is Chick-fil-A. When the chain opens a new restaurant, it identifies Chick-fil-A biggest fans in the area by conducting one of their First 100 events. As part of the promotion, Chick-fil-A fans are encouraged to arrive at the new restaurant between 5:30 a.m. and 6:00 a.m.—the day before the grand opening. Through a drawing, 100 lucky fans are rewarded with meal cards pre-loaded with 52 free Chick-fil-A #1 Sandwich Meals. Winners are allowed and encouraged to share their meal cards and dine with friends, potentially extending the reach of the brand to new audiences. In addition, the events themselves act as local marketing campaigns with participants encouraged share their enthusiasm and participation via social media platforms like Facebook, Instagram, Twitter and FourSquare.
Stand For Something
Sometimes it's enough for a brand to focus solely on making the best product, but increasingly your customers are also looking for an emotional connection with your product or brand. Take sneakers as one example. The Nike swoosh logo has a definite history and brand appeal.
Many customers buy Nike sneakers because they want to be connected to everything that the swoosh represents—a valued brand, its long history and its connection to popular athletes. On the other hand, fans of New Balance sneakers might gravitate to the brand's "Made in the U.S.A." stamp. In both cases, these emotional connections can be primary drivers of engagement, advocacy, and brand loyalty.
TOMS is another company that excels at winning loyalty through its strong brand identity, but also through connecting with its customers' values. The company was initially founded to help provide footwear to poor children in South America. Eventually that effort led to TOMS Eyewear, which helped provide prescription glasses to those in need. Today, TOMS has donated more than 35 million pairs of shoes and 250,000 pairs of glasses to people in 60 different countries.
It's incredibly inspiring, and fans of the brand that buy and support TOMS know they are helping contribute to that worthwhile mission. But TOMS didn't stop there. As part of its new loyalty program, the brand is now rewarding and recognizing people for getting involved in charitable endeavors. One of the featured rewards even involves a trip to see the TOMS charity in action. It's incredibly powerful and TOMS continues to grow as a result.
Brands like Lancôme, Chick-fil-A, and TOMS understand that winning customer loyalty takes work. But paying attention to the details of the customer experience, rewarding consumers for all of their engagement and showing that your company cares about more than the bottom line will go a long way toward keeping people loyal to your brand for years to come.
Geoff Smith is senior vice president of marketing at CrowdTwist.