2012 PRO Award Winner: The Marketing Arm for Nintendo
Nintendo launched "Super Mario 3D Land" and wanted to create a hands-on experience to highlight the 3D gaming experience on the Nintendo 3DS.
The Marketing Arm designed a takeover of Military Island in Times Square. On Nov. 12, 2011, the area became fully immersed in "Super Mario 3D Land." Visitors became part of the game through an oversized Nintendo 3DS game system. Attendees were given iconic Mario Tanooki ears and tails, then encouraged to slide down warp pipes, dodge ink-spitting piranha plants, hop over Goombas and bounce on trampolines for coins—just like Mario. The trampolines triggered iconic game sounds. Massive sound-filled warped pipes transitioned into the flagpole finale for a photo opportunity.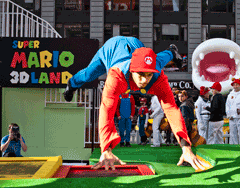 To open the event, an acrobatic group of "Marios" performed, providing video and photo opportunities. Jon Bon Jovi and his family joined reporters for the opening performance, providing photo-ops and generating additional buzz.
Visitors could go to the sampling tent for a hands-on trial of the new game prior to it's public launch the next day.
The ABC Jumbotron displayed "Super Mario 3D Land" content and messaging throughout the event. The entire event build-out and overall event experience was captured in time-lapsed video and distributed to media outlets the day of the event. Online, the video was available via Nintendo's YouTube channel.
According to published reports, "Super Mario 3D Land" was the fastest-selling game in its franchise and the Nintendo 3DS had sold more than 4 million units in the U.S. Videos of the event were posted online have been viewed by more than 50,000 people.