SuperValu's First Mobile App Built for Loyalty: Q&A
SuperValu is offering customers its first true mobile play with the launch of a custom-built mobile application that it hopes will encourage loyalty. The app offers a number of capabilities to improve the shopping experience such as finding nearby retail locations, viewing the current weekly ad circular or managing a shopping list. The company tested the mobile app at its Cub Food stores in November, and formally launched the app to the rest of the company's traditional banners last month.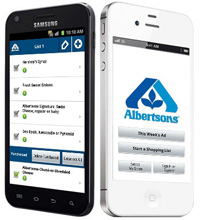 One of the unique features of the app is its synchronization with the nine retail brand websites SuperValu operates including Albertsons, Cub Foods and Jewel-Osco. For example, customer's shopping lists are synchronized in real time so that a member of one family can update the list from home while another is shopping.
To fill us in, Kat Kozitza, SuperValu's director of digital and social media, talks about the convergence of mobile and brick-and-mortal stores, geo-location and what mobile can bring to the retail party.
PROMO: How does mobile fit into your overall marketing plan?
KOZITZA: We are very bullish because we really see how that experience with digital is becoming more and more portable. We certainly are looking at that closely and realizing it's very much a part of our consumers' lives and we're quite focused on mobile as a tool and a solution for our customers.
PROMO: How did you build the app?
KOZITZA: It was built from the architecture of our digital capabilities, so it's an extension of our digital space across all of our banners. This matters because we are able to more quickly extend into and deliver in mobile. It's also important for us for the efficiencies and maintenance.
PROMO: How does this translate for the customer?
KOZITZA: A consumer can be out and about, pull out their phone and type in ground beef to add to their list. Later in the day they might be going through the recipe and find they need noodles. If the laptop is open in the kitchen they can go to the Albertson's website, and pull the shopping list. If the husband is at work, he too can update that shopping list.
PROMO: How do you view the mobile device as it relates to your stores?
KOZITZA: It's a device that is coming in and out of our stores. So how do we make that a meaningful experience? How can we coordinate certain device features that we can leverage in the shopping experience? The things that we're excited about are barcode scanners and geo-location that we see as being a great application to the shopping experience.
PROMO: How will barcode scanning be used?
KOZITZA: It can be helpful to pantry reloading. The customer is able to take a picture of the barcode and the item will appear on their shopping list and it can take items off of a shopping list as items are put into the cart. Those are not features in our current app today, but things that we see in the marketplace that we are watching closely.
PROMO: And geo-location?
KOZITZA: Facebook places and Foursquare are two formats consumers are using throughout the day to check in at various locations and that's an opportunity for us. They're telling their friends and us that they're coming to our store so the opportunity is there for us to be more prepared, to greet them, to offer incentives for that day. Another way that geo-location is of great interest to us is understanding where in the store the consumer is to offer up special offers as they, for example, are going by the deli.
PROMO: How are you marketing the app?
KOZITZA: We use social media as the primary touch-point. We've communicated with our Facebook followers and through email. It's really with our consumers who have engaged with us in a digital way. And we'll advertise it also in the more traditional ways like the ad circular.
PROMO: Where do you see mobile a year or two from now?
KOZITZA: Wow, I wish I knew the answer. We certainly believe there will continue to be some consolidation in the main players. In terms of the actual usage of mobile, consumers are going to get choosier or more particular about what they are willing to download on that phone and what they want to engage with. Up to this point there has been a lot of experimentation and certainly the bar will continue to be raised as to how effective the apps are that they are downloading.
PROMO: Is an app something brands feel they have to have?
KOZITZA: I think that it might not be an app thing per say, but it's certainly a mobile position brands have to have and apps are the more common way to be part of that. We need to be where our customers are and at the end of the day that's the primary driver. If that's app, then that's the direction we will take.