Emails We Love: Five Below [Confuses] Us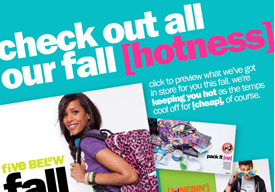 Okay, first off, here's what I love about Five Below's email program. Less than 24 hours after I signed up for their email list I received my first communication from them. Getting a message out quickly so the consumer doesn't lose interest, or worse, forget they even signed up for your list and think your emails are spam, is essential. So, Five Below gets points for that.
But otherwise, there's a few things that puzzle me about the retailer's email program. For those unfamiliar with Five Below, it's a chain of discount stores that offer products for below $5. Think low-ticket items like candy, costume jewelry, school supplies and small toys, and lots of overstock purchased from manufacturers and other retailers.
I was in one of their stores late on a Sunday afternoon, picking up a few items for my kids. My email address was solicited rather unenthusiastically by the cashier. I'm going to chalk it up to the fact that at 5:45 pm at the end of the weekend, he was tired after a long day of work. Still, mumbling to a customer "You got an email?" with no explanation of why they're asking isn't the best way to encourage folks to join your list.
The woman before me declined to give hers, but I said yes, because, hey, that's what I'm here for.
My first email wasn't a welcome message but rather jumped me right in the fray with a pretty general offering, inviting me to "check out all our fall [hotness]." Why is the word "hotness" in brackets? I have absolutely no idea, and as a grumpy old editor it bugs the heck out me.
Is randomly putting words in brackets for no reason (and not using proper capitalization) something the hip young kids do now, while they're listening to that noisy rock and roll music and smoking their funny cigarettes? Maybe. In addition to the subject line and the headline on the body copy, the interior copy reads "click to preview what we've got in store for you this fall. we're keeping you hot as the temps cool off for [cheap], of course."
The feel of the email, as well as an accompanying video featuring behind the scenes footage of teen models in a photo shoot for fall advertisements, feels very youth focused. This is all well and good, but I can't help but think the folks who really think Five Below is cool are the moms looking for affordable items for their kids. Sure, a lot of the products are appealing to teens and pre-teens, but remember who holds their purse strings.
I'll look forward to receiving more emails from Five Below. Now, if you'll excuse me, I have to take my grumpiness elsewhere and chase some kids off my [lawn].
Beth Negus Viveiros (@CMBethNegus) is managing editor of Chief Marketer.