2012 PRO Award Finalist: Prizelogic for Disney Cruise Line
Disney Cruise Line offers more than exotic vacation getaways. "Magical" moments and Disney-inspired family memories are included with every trip, appealing to a core demographic of "family cruise intenders" comprised of families with kids.
To position Disney as the only cruise operator that offers "magical experiences" on every voyage, Prizelogic created The Magical Cruise Adventure Sweepstakes, which allowed users to build their own cruise by adding upgrades to their potential grand prize in the form of activities and amenities that normally cost extra.
The goal was to create an immersive online promotion that would reflect the magical experiences included with a Disney Cruise to drive preference for the brand in the marketplace. Objectives were to boost frequency of entries in the promotion and to increase traffic from the promotional site to Disney Cruise Line's official website, as well as increase purchase conversions.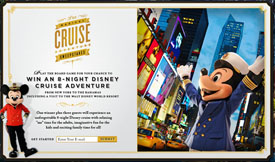 The promotional experience had to educate the brand's key audiences (parents, grandparents, past cruisers and Disney enthusiasts) about all the activities and amenities that make a Disney cruise vacation magical, but it also had to be entertaining enough to promote through Disney's social and direct marketing channels.
Disney's famous characters – and the magic of storytelling – were leveraged to create the brand's first interactive board game. The Magical Cruise Adventure Sweepstakes turned cruise amenities into Magical Experiences, stolen by the Disney Villains, and sent users on a quest to return them to the Disney Cruise Ship.
Users played by sailing through five treacherous islands based on Disney ports of call, each guarded by a villain. Castaway Cay – Disney's home port – was positioned as the central island, as well as the game's starting point and finish line.
The board game concept gave Disney cruise amenities relevance in the game, and encouraged repeat visits so users could complete the ship. They could also upgrade their potential sweepstakes prize by landing on "treasure" spaces. These amenities cost extra on a Disney cruise, and became incentives for users to keep returning to play.
To bring Disney's fan base into the experience, we let users "recruit a crew" by assigning their Facebook friends crew titles and inviting them to join the adventure. This increased users' upgrade capacity, allowing them to add even more items to their potential prize.
The promotional entry rate was approximately 8 times the goal. Users played an average of 13 times and time spent on site was 300% higher than previous programs.