2012 March Madness Was Very Mobile: Study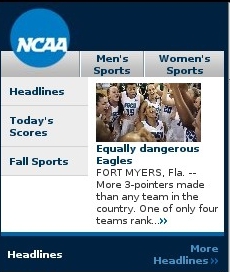 To marketers, mobile is a channel for their promotions and branding messages. But no consumers ever pick up their smartphones and go looking for ads; they're hunting for content, and the marketing trick is to wrap the message around that content. So it's interesting that the latest report from Millennial Media focuses on how mobile fans used their devices to view the big event of last month, the NCAA basketball championships.
In its April Scorecard for Mobile Advertising Reach and Targeting (SMART) Report, Millennial teamed with the Interactive Advertising Bureau on a survey by Harris Interactive of how 2,000 U.S. adults used their phones or mobile devices to get engaged with the March Madness madness. Millennial operates an independent mobile ad platform that incorporates both mobile content sites and mobile apps. Harris conducted the survey from March 23 through 27 2012, when the competition hit its midpoint and about half the 68 original contenders had been eliminated.
Over the course of the tournament, the survey found that 88% of self-described "passionate fans"—that is, those with an expressed favorite team they were following– used their phones for NCAA-related activities. That compares to 79% of fans overall who said they used their mobile device to do something related to the tournament. But among respondents 18 to 24, the reach metrics hit an impressive 91%.
Those actions might have been as basic as checking scores (48%), but 25% also used their phones to read news about teams or players, 23% spent time checking their brackets over their devices, and 20% watched game highlights on mobile video.
The survey indicates that NCAA-related activity took off on the Millennial network on the first day of the competition, March 13, when the number of impressions on mobile sports apps jumped 31% compared to the week prior. For the 5 pm-to-7 pm after-work hours, those impressions spiked 158% compared to the prior week.
Social media mobile apps also saw a 42% week-over-week increase in impressions on the same day and within the prime game-time hours of 7 pm to 11 pm. That jump might be related to another finding from the survey: that even when they were watching the games on TV, 69% of consumers were also viewing NCAA-related content on their mobile devices. Apparently, a good number of them were using social media to post or tweet to friends during the broadcasts.
Among those passionate fans who said they were rooting for a specific NCAA team, 78% said they were using mobile because it gave them the advantage of convenient access to the tournament content they wanted. That's only a bit higher than the 69% of the general response group who said mobile was a convenient way to consume NCAA content.
But 40% of that superfan group reported putting their money where their team spirit was and actually buying a mobile app relating to NCAA content. (The NCAA offered its own streaming video app for the first time this year.) And 26% of the passionate respondents said they in fact were primarily following the NCAA games via their smartphones as a "first screen".
Nor was mobile Madness confined to the DMAs that had local teams in contention during that first half of the tourney. According to the SMART Report, the list of the top 16 areas for NCAA mobile engagement included not just markets with local favorites such as Charlotte NC and Phoenix but big cities like Chicago and New York, without identifiable contending teams but with larges bases of migrated fans.
The survey findings jibe with other analyses from sources such as comScore, which found that on that March 13 opening day sports content consumption jumped some 79% compared to the previous three weeks, and that the biggest spike in viewing was on non-computer devices. For example, tablets saw a 94% jump in sports content use that day and smartphones saw an 83% spike, compared to a 77% spike in computer sports viewing.
What's the marketing point here? According to Millennial, it's that multi-day sports events such as this can serve as important focal points around which to organize a branded mobile campaign of display ads and useful apps. And as the report suggests, there are more of these spread-out viewing opportunities to come this year, and thus more chances to engage regularly with sports-minded mobile fans.
"From checking scores and watching highlights to interacting with friends, family and alumni, 88% of passionate fans turned to their mobile devices as a way of engaging with NCAA Tournament-related content. We anticipate seeing similar consumer behavior trends during other multi-day sporting events like the upcoming UEFA Euros [the European football championship, to be hosted in Eastern Europe June 8 to July 1] and the 2012 Summer Olympics."