Why Data is the Key to Unlock the Path to Purchase
John Wanamaker once said 'Half the money I spend on advertising is wasted; the trouble is I don't know which half'. It's a question which has troubled marketers since the 1800s, and even with the huge amounts of data available today, it can be difficult for brands to judge which elements of their advertising campaign have been truly effective.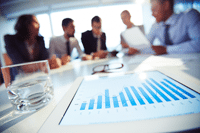 Digital advertising represents a huge leap forward in how advertising campaigns can be tracked and measured. Unlike offline campaigns, digital advertising delivers trackable, actionable metrics in real-time. By using a tag, ad tech providers are able to easily identify whether a user has clicked on an ad, watched a video (and if so, for how long), whether the audio was on and if they carried out an online action via the ad unit. It is also highly advisable to track whether the ad was viewable. By working with a third party verification provider, brands receive insights into whether an ad is viewable and consequently the true value of the impression or view.
While these actionable metrics are extremely useful, particularly for performance-based campaigns which are popular among brands like Netflix and Uber, where the end goal is for a user to perform an online action (sign up online or download the app), the challenge is when a user is being driven to carry out a purchase offline. How can the advertising campaign and final purchase be linked?
Location data, thrown up by our constant use of smartphones, provides another piece to the attribution puzzle. Each time an ad call is received from an app where a user has enabled location services, details of their current location is delivered via a lat/long co-ordinate (it's important to note location can be determined in other ways, such as WiFi or user input but geo co-ordinates are the most accurate). These co-ordinates are assigned to the advertiser ID, which remains anonymous, and over time build up a picture of the user's location behavior.
The next step is to use geo-fencing technology to identify what is in a particular area. This makes it possible to determine which restaurants a user visits, where they prefer to shop, where their work location is based etc. This information is then combined with the campaign information, making it possible to determine which users have seen an advert for a particular brand and then visited a brand location, highlighting if there has been an increase in footfall from users who have been targeted by the mobile advertising campaign. If brands can release sales records from each location, it would be possible to determine a general correlation between increased footfall due to the mobile campaign, and in-store purchase behavior.
But while campaign data and location can be useful at determining how users have engaged with an ad unit, and whether they have gone on to visit a store, many marketing campaigns have subtler objectives. Brands are constantly seeking to draw users through the purchase loop, from awareness to consideration, to purchase and finally brand loyalty. The success of all marketing campaigns should therefore be delivered and judged against these actionable metrics, and not just the digital KPIs, which have been used in the past.
The future of brand marketing will use data on brand metrics to optimize campaigns towards overall marketing goals, rather than clicks or views. This can be achieved by serving a subsection of the target audience a short survey before the campaign goes live, to locate and analyze the profiles of users who are in market. Artificial intelligence should then be used to identify users with highly comparable profiles, within the target audience to achieve scale.
Once the campaign begins, users continue to be surveyed to identify uplift in brand metrics such as purchase intent, and these results are fed back into the AI system, which then uses machine learning to up-weight campaign delivery to users most likely to show strong uplift in purchase intent. As AI is self-learning, these campaigns deliver better results and fewer wasted impressions, improving performance and efficiency over time. This means that, not only are brands able to judge the performance of the advertising against brand metrics, but campaigns are optimized in real time, effectively closing the feedback loop which takes months to deliver actionable insights for offline campaigns.
Data is the key for unlocking the path to purchase. By combining all of these layers of data it is possible to determine whether the ad was viewable, if the user watched the entire ad, whether they underwent a change of opinion and felt an increased intent to purchase and finally walked into store to buy that product. Data reveals exactly what advertising is delivering for brands, and enables technology providers to ensure that far more of brand advertising is delivering a real, measurable result.
Stephen Upstone, founder and CEO of LoopMe.
Related articles:
How Effective are Your P-O-P Displays?
Brands Take Control of their Data to Reset Privacy