Video helps Maine Lobsters Get Their Claws into Restaurant Chefs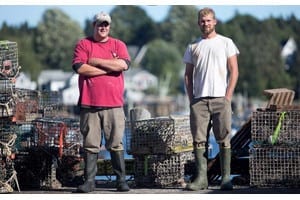 A series of online videos educating chefs and diners about the appeal of Maine lobsters has helped get the tasty crustacean onto more restaurant menus.
"So much of what we do is a great story and people want to hear it," notes Matt Jacobson, executive director of the Maine Lobster Marketing Collaborative. "One of the biggest food trends is people wanting to know where food comes from and whether it is harvested responsibly. Our story has such a visual impact."
While the appeal of lobster as a delicacy is legendary, many people outside of New England often don't understand how to prepare it. This was hammered home to Jacobson when he overnighted some lobsters to a well-known chef in Chicago. The chef was shocked when the lobsters arrived alive and didn't know how to prepare them. (Lobsters degrade very quickly after dying, which is why they should be alive right up until they are cooked.)
"The fact that he didn't know what to do with them really hammered home the idea that education was needed," he says.
About 85% of seafood is consumed in restaurants, making chefs a primary target for marketing. Studies show that between 70% to 80% of lobster is eaten in restaurants—but only about 4% of restaurants serve Maine lobster. That leaves a lot of room for growth.
The Collaborative wanted to reach rock star chefs with a good story, to get them to put lobster on their menus. Some were brought to Maine and taken out on lobster boats and to visit processing plants so they'd become evangelists for the lobster.
But you can't bring everyone to Maine, so that's where online video comes in.
The Collaborative created videos featuring lobstermen and their families discussing the process of catching lobsters and the appeal of new shell lobster, as well as famous Maine restaurants like Kennebunkport's Clam Shack.
New shell lobster season begins around July 4 and goes through about early November, so a campaign with the videos was launched on Facebook and YouTube at the end of June. Video clips were also created to give news outlets B-roll footage to use in background about Maine or lobsters.
The videos got over 65,000 views in two weeks, and the collaborative expects to repackage and reuse the clips for quite a while. Success of the initiative is measured by how long people watch and whether they shared clips, as well as whether chefs add lobster to their menus.
In addition to video, the Collaborative has also done "Maine After Midnight" events to promote lobster to chefs in cities like Atlanta, Washington, DC and New York. Because chefs work crazy hours, they're often hard to reach. About 65 to 70 chefs are typically invited to each of these events, which begin after 11 pm. Lobster dishes created with the flair of the local city are demonstrated, and the difference between hard and soft shell lobster is explained (fans of soft shell claim they are sweeter and easier to eat, while hard shell aficionados say those have more meat).
For more ideas on how to successfully incorporate video into marketing campaigns, see our new special report "Visual Velocity: Harnessing the Power of Online Video."