Solving the Customer Data Puzzle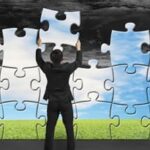 For a business to thrive these days, it's important to track all customer data—from traditional and digital marketing, to product returns and online reviews—to fully capture the customer's journey, not only in their path to purchase, but also in their course to long-term brand loyalty.
Unfortunately, a wide range of customer data is siloed and comes in varying formats from different sources. To get the full picture, your marketing and analytics teams may have to manually collect and integrate data in combination with using a number of data management tools, creating a disjointed process. This makes it extremely difficult to easily obtain a 360-degree view of the business and results in knowledge workers wasting valuable time when a better approach and more effective tools could streamline tracking and reporting.
Piecing together this data puzzle to reveal the full picture depends on exactly how your company accesses, connects, manages and analyzes data. Is your organization investing in the right data management tools to deliver the best possible insights to make quick, effective decisions that boost the bottom line?
Is all of your marketing and sales data at the table?

Getting the full picture starts with making sure all of your internal and external information—big and small, in qualitative and quantitative forms that capture all aspects of your marketing, customers and sales—is being properly tagged and tracked. As a first step, map every touchpoint during the path to purchase—including social media engagement, marketing campaigns, customer behavior, sales and more—and make sure it can be tracked.
Even more challenging can be accessing and integrating data from external partners, like agencies and vendors, which deliver summarized reports versus providing raw data. Be sure that your data management tools can transform and standardize this content, enabling your team to integrate and analyze content seamlessly.
Can all of your data be connected, or do you need several reports to deliver one analysis? 

Your many data sources, like separate pieces of a puzzle, should connect to present a full picture of your business. Can your marketing efforts be attributed to your sales, and in turn, inform you of necessary inventory levels? It's difficult to get these answers by reading scores of separate reports, which results in significant time spent to produce one analysis by knowledgeable staff members whose time could be more efficiently used.
Are you getting a streamlined, automated analysis with real-time insights?
It can also be challenging to real-time results from multiple data sources at any point in a campaign to measure performance and identify potential issues as they occur, versus after the fact. Was it a new product that moved the needle, a new direction in branding or a simple sales promotion that has your numbers on the up and up? Or, is negative customer feedback on social media slumping sales? Automating data integration, which ensures that your varied data is constantly aggregated into one place, will show a positive return on your data investments by shedding light on connections that you otherwise wouldn't have seen.
Darren Wagner is CMO of TMMData.