Putting B2B Content Marketing into Context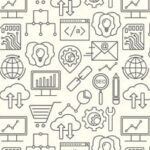 Putting prospects' actions into context can organizations create a more effective B2B content marketing strategy.
Creating connective pathways can help amplify the power of your content marketing, says Ardath Albee, CEO, Marketing Interactions Inc., who spoke at the MarketingProfs B2B Forum in Boston last week.
"Price is very rarely the reason a customer didn't buy," says Albee. "You need to know what buyers need at every step in their journey."
B2B marketers should consider the questions prospective customers are asking when they look at their content, she says. These questions include:
What are the best practices in this field?
What are other companies like mine doing?
How will this product/service reduce our risk?
Who has the expertise we need to help us achieve our goals?
Who should I care about your company?
It also doesn't work to just publish one piece of content and then think that will magically do the work, she notes. It pays to look at the ways you can group information together to help your buyer take the next step.
With a content hub in place, marketers can let prospects and customers "pick their own adventure" when it comes to what they choose to read or watch. The content they pick will put their interests and needs into context for your brand, Albee says.
"You need to think about what content will move people forward from one stage to another," she adds.
There are a number of attributes to consider when crafting content that will perform best for your brand. For example, you need to know how long it takes for someone to really read your content—not just skim it but really pay attention and consider it. This is a great reason to consider moving away from posting content in a PDF format, Albee notes,
Other factors to pay attention to include knowing how many deals a piece of content was involved in closing, and what format and length works best. For example, is everyone reading your 500 word blog posts, but ignoring your seven page whitepapers?
Marketers should also consider the ease to read and grade level of their text, she says. This can be done by selecting the "readability" option when you spellcheck a document in Microsoft Word.
The same content can be used for prospects in different verticals and industries, Albee says. Look at whether content is useful for different personas, and adjust the focus or context according, to help scale your B2B content marketing initiatives.
Related Articles:
What B2B Can Teach B2C About Content Marketing
Creating a Winning Content Marketing Strategy: Special Report