Mobile Advertising 101: Ad Types, Performance, Measurement
Despite the popularity of Netflix and other ad-free services, advertising isn't going away. Actually, quite the opposite trend is taking place. According to recent forecasts by Carat on data from 59 markets across the Americas, Asia Pacific and EMEA, advertising spend will reach $548.2 billion in 2016, a 4.4% year-on-year growth. However, just because brands are spending money on advertising doesn't mean all campaigns are created equal. In order to maximize effectiveness, it's critical not to overlook all the ways to reach consumers—including mobile.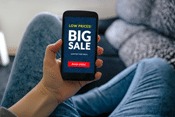 Mobile advertising campaigns are nothing new. In fact, BI Intelligence predicts that U.S. mobile ad spend will reach around $42 billion in 2018, up by a five-year compound annual growth rate of 43% from 2013. However, for many, mobile advertising seems like a riskier bet compared to more traditional options. Still, by omitting or downplaying mobile in the context of a larger advertising strategy, brands are missing out.
Mobile Advertising 101: Understanding the Different Types of Mobile Ads
The first step for brands venturing into the world of mobile advertising, or for those looking to take their mobile advertising campaigns to the next level, is to understand the different types of mobile advertising delivery options available: mobile web, in-app, SMS and MMS advertising. When it comes to serving ads to mobile users, some brands approach it as they would a traditional advertising campaign, and deliver offers through the user's mobile web browser. Brands should treat mobile advertising as a completely separate entity from online, and adjust their approach accordingly.
What Performs Better? In-app or Mobile Web Ads?
Serving ads via mobile apps is far more effective than delivering offers though a browser. According to Medialets, in-app click-through rates averaged 0.56% globally, compared to 0.23% for mobile web ads during the first half of this year. Again and again, the data shows that in-app mobile ads perform much better than mobile web ads, and advertising spend will likely follow these performance and usage indicators.
While in-app and web-based advertisements are two of the most popular ways to serve up mobile offers to users, Short Message Service (SMS) messaging or 'texting' is another avenue brands can leverage to interact with customers. SMS communication allows for a short exchange of communication between companies and people, and is a channel for consumers to receive mobile advertisements and offers. The fact that every operator across the globe supports SMS has created a universal market for SMS-based ad campaigns.
Lastly, Multimedia Messaging Service—or MMS—provides a richer messaging experience for users than traditional SMS services. On MMS, users can send and receive messages with graphics, photos, audio visual elements and traditional text. While MMS provides a more advanced message experience and therefore more robust advertising options, it's not yet universally supported by all operators, which can be limiting.
Ways to Measure Campaign Effectiveness
A critical question to ask before kicking off a mobile adverting campaign is: how can I measure my campaign's success? The two most important ways to measure the impact of a mobile advertising campaign are through impression and conversion rate analysis.
An impression, as it relates to online advertising, is simply the number of times an ad is seen. Mobile web and in-app guidelines for measuring impressions differ, as the two environments aren't the same. For advertisements served to users though a mobile web browser, the parameters for measuring impressions are consistent with existing online web guidelines defined by the Interactive Advertising Bureau (IAB). With in-app advertisements, however, there are a number of factors that make standard measurement impossible (lack of cookies, offline capabilities). When establishing measurement metrics for a mobile advertising campaign, makes sure to take these factors into consideration, and check out resources like the Mobile Marketing Association (MMA) and IAM for helpful info.
Conversion rates in advertising simply refers to the total number of conversions divided by the number of clicks on a promotion or offer. For example, if you had 100 conversations from 1,000 clicks, your conversion rate would be 10% (quite nice!). The higher your conversion rate, the better your campaign is running.
What to Consider When Creating an In-app Ad
It's clear that in-app advertising offers incredible value, but the final hurdle brands need to clear is ensuring that their advertisement is engaging and is integrated into the right type of app. Given the fact that 22% of downloaded apps are only used once, it's important you pick the right one, and even more important that users find it valuable.
The most important step in the process of developing a successful in-app advertisement is defining the target audience. What type of users do you want to reach with your advertisement? Consider age, gender, geography, device type/level and users' interests when narrowing down the ideal audience. Advertising platforms now offer precise targeting based on classification tags collected through big data analysis, so the heavy lifting is already taken care of. As a publisher, all you need to do is decide which audience is right for you.
Mobile is one of the most personal channels for brands to interact with customers. As spending on advertising continues to increase, so will the focus on mobile as a channel to deliver targeted and effective promotions to users.
Josh Fenn is senior marketing manager of Baidu, Inc.'s Global Business Unit.
Related articles:
Goodbye Marketing Funnel, Hello Mobile Engagement Loop
4 Ways to Use Mobile to Optimize Back-to-School Shoppers