Lenovo Turns to Influencers for B2B Workstation Promotion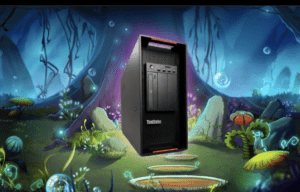 A focus on using influencers to reach specific B2B verticals like entertainment or oil and gas is part of Lenovo's strategy to promote its workstations in 2019.
"AI is a big theme for us and we really want to try and amp up efforts across all the verticals we work under," notes Jolene Allard, worldwide workstation marketing manager, Lenovo.
The workstations audience spans over several B2B verticals for Lenovo, including architecture, engineering and construction; media and entertainment; oil and gas; and healthcare.
The company is hoping that influencers with followings in these key verticals will help Lenovo build trust with prospects as they are in the market for new systems. To reach media and entertainment pros, for example, it partnered with Hideo Kojima, a Japanese digital artist artist who creates video games. His vast Twitter following will help Lenovo connect with pros in that space.
Of course, what builds trust will look different for different audiences. In oil and gas, the strategy might not be partnering with individuals but possibly publications that are widely respected and followed in that market, to raise Lenovo's profile. "We're working through that strategy, to see what will be the most successful."
Which social channels perform best depends on the vertical. While Facebook hasn't given the brand a lot of traction, the @ThinkStations handle on Twitter is good for engagement, and LinkedIn has worked well for product content. A just-launched Workstations Instagram presence is showing promise, particularly in entertainment, which is a very visual industry. Media and entertainment pros live on Instagram, so a lot of photos and videos are shared for that audience there. Oil and gas professionals, on the other hand, aren't as ripe an audience for that type of content.
---
You May Also Enjoy:
---
"We need to tailor strategies to make sure they are resonating with the right verticals, on the right platforms," says Allard. "We have to think about the demographics and understand the vertical. We've been fine-tuning the process to understand what performs best."
Social metrics for Lenovo focus mostly on engagement. "Historically, we were getting a lot of impressions but engagement was low," says Allard. "We felt like the content wasn't necessarily resonating with the right people. So over the last couple of years we've focused more on engagement and putting out authentic content, looking at quality over quantity to reach more people."
Lenovo, which is working with LeadDog to develop its influencer  and social strategy, is still defining its metrics for these initiatives. "If we are targeting our messaging we should be able to increase reach and engagement," she says. "Because it is the first time we're embarking on this strategy, it will evolve over the year."
As for who is creating the influencer-shared content, it will likely be a mix of content created by Lenovo and content created by the influencers. "I think there will be a balance of what we and they bring forward," she says.