LA Kings Turn to Modeling to Ice Churn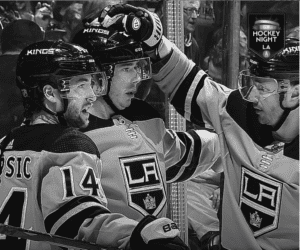 Real-time models are helping the LA Kings predict churn and improve retention with season ticket holders.
With the rise in popularity of the resale market for hockey tickets, the team needs to impress upon buyers the value of their purchase.
"We're almost selling against the secondary market, because there are so many seats available through StubHub or a hundred other resale sites," says Michael Marsocci, senior manager, data and analytics for the LA Kings. "It can be hard to get [fans] to purchase through us."
There isn't one exact profile of the team's 13,000+ season ticket holders, but they tend to be on the more affluent side, and are often empty nesters or don't have children. With a lean team of six reps, it is impossible for the team to personally connect with each buyer, so it needs to identify the right ones to spend time on and develop service campaigns to serve their needs. Retention modeling helps pick out those people.
"We don't want to waste our time," says Aaron LeValley, svp business operations and strategy for AEG, the parent company of the Kings. "The dedicated fans will be with you no matter what. People who have been with the team for 40 years are likely to sign on for a 41st season. It's the rookie season ticket holders who might be unsure of the investment and more likely to churn. There are others who need more attention on the service side."
Working with SAS, targeted models of who would benefit the most from contact are helping to power the team's season ticket holder retention strategy. Because the team's performance has a huge impact on whether people attend games, the Kings start as early as 10 games into the season to create models and identify fans with a propensity to churn.
---
You May Also Enjoy:
---
"Churn is very dependent on team performance," says LeValley, noting this has been a challenging season for the LA Kings, currently ranked last in the NHL's Pacific Division. "When we win the Stanley Cup, renewals are 88 or 89 percent for us. But when we're struggling, that's when we need to get more information to people."
Identifying risk factors also help the team know to reach out to ticket holders who might be going through a life change making it more difficult for them to attend games. "If we have conversations year round, rather than just during the renewal period, we can encourage them to use their tickets, or maybe help them relocate to seats that are more affordable," says LeValley.
For those who are not as affluent, the state of the secondary market definitely makes an impact. If the team isn't doing as well, those prices will dive, meaning the fans can't recoup their investment, he says. "We have to find ways to manage something we can't control, so ticket holders see it is worth their investment."
The NHL season starts in October, and the team starts selling for the next season in February. "We're still playing in February, March and April, so we have things to talk about in promotions," says LaValley. "If we started selling in June or July, no one is thinking about hockey, so it isn't top of mind. The emotional connection is often a big reason for purchase, so we want to sell when there is something interesting to talk about, like playoffs or other exciting moments."
Renewal campaigns utilize multiple channels. Emails go out once a week, to keep ticket holders up to date on team news and events, while direct mail is used to send subscribers a personal gift to encourage them to re-up. One year, glass from old boards around the rink was incorporated into bottle openers that were sent with the renewal invoice. Additional gifts may also be sent upon renewal.
Retention modeling helps the team bucket season ticket holders as being at a low, medium or high risk of churn, says Marocci. "Once we figure that out, we shoot the information over to our service team and they approach them differently. A low risk account, we tend to sit on that a while longer, with a fair amount of certainty they'll renew again. But for medium and high, we want to reach out as soon as we can."
Messaging differs depending on what level the ticket holder is at. Some might get information about the general benefits of renewal, while others might get messages about auto-payment options or renewal deadlines. "We want to get as many answers to them as soon as possible and keep the conversation going," he says.
Year-round, the team runs a touchpoint program, which aims to touch each customer a minimum of six times a year, with everything from happy holidays messaging, to event updates, to troubleshooting programs. "We require our team to have a relationship with the customer and talk with them directly," says LaValley.
For ROI, renewal is the main metric considered, but it also looks at engagement metrics and feedback, we well as how many people upgrade or downgrade their ticket package for more or less games each season.