How Companies Can Showcase Their Values During COVID-19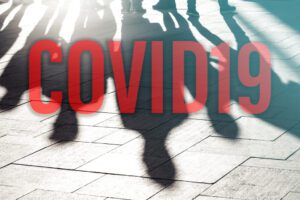 Businesses on solid financial footing today likely feel compelled to "give back" to their communities. But with so many options for how to offer support, it can be difficult to pinpoint what exactly a business should do. One way to develop ideas for meaningful action is by reflecting on your business's core values. Doing so will allow your organization to focus its help efforts and lead with purpose.
Here is how your business can support those in need and demonstrate its values during COVID-19.
1. Identify Your Organization's Values and What You Hope to Accomplish
Thinking about your organization's core values means asking the right questions. What are the tenets that you share with employees and customers on a regular basis? What is your mission statement?
If you're a food or CPG company, maybe you prioritize environmental sustainability or consumer wellness. If you're a tech company, you might focus on a mission to connect people through technology.
This reflection process should involve everyone in the organization, especially employees. Getting feedback from them about what they're struggling with at work or what they're hearing from clients will shed light on the specific areas where your company can step in and have an impact.
Once you've taken time to reflect on what your organization is all about, you can then brainstorm ideas for what you hope to accomplish and who you want to help. Focus on actions that align with the values you've identified.
For example, the Glad Company defines responsible waste management as one of its key values. From this, the company decided to create a fund to support sanitation workers across the country who put themselves at risk of infection during the pandemic.
2. Do Something That Will Make an Impact
The next and most important step is doing. Organizations have a lot of choices here, but many fall into one of four categories:
Donating money: This non-exhaustive list of national nonprofits offers a great starting point for where your funds can have an impact. If you'd rather focus your donation on your own community, look for similar lists of groups in your city or town that need help.
Volunteering: If community engagement is an important part of your company culture, consider organizing work time during which healthy and willing employees can volunteer. Many assisted living facilities currently need help running errands and providing essential items for the elderly. Other ideas include gathering resources for underserved communities or creating and distributing protective gear for healthcare workers.
Gift giving: Consider sending gifts to employees or clients from a business that are making a positive impact. This is a great way to show appreciation while also supporting businesses whose mission aligns with yours. Some examples of gifts include a food basket that provides employment to survivors of abuse, a backpack created from recycled materials, or a tumbler and coffee set that offers jobs to individuals with disabilities.
Providing free access to your products or services: Offering free or discounted access to products like remote work software or entertainment platforms is a way to acknowledge customers' financial constraints and make peoples' lives easier during this time. You could also donate services to organizations or people in need.
Again, at the core of all of these activities is focusing on doing things that stay true to your company's values and also provides a benefit to your community and society as a whole.
3. Share Your Impact with Others
The current news cycle is exhausting given all the rapid changes and uncertainty. That's why a bit of good news is something people will enjoy seeing.
Done right, telling your story can demonstrate thoughtfulness and leadership. For instance, one CEO in Seattle used a LinkedIn post to highlight his employees and the challenges of working remotely. The CEO shared that he wanted to continue building on the core value of relationship building by sending his employees meaningful gifts. He then offers some gift ideas to other leaders in the business community who might look to do the same.
What you don't want to do when sharing your actions is be promotional. Instead of talking about your company's ability to make an impact, celebrate the people and institutions that you're supporting and what the outcome was.
Finally, it's especially important to let employees know that their work is producing meaningful outcomes. It's a strange time for everyone, but if employees can recognize the positive impact that their work is having, they will develop a greater sense of purpose within the organization and feel more closely connected to each other.
Make a Difference in a Way Only Your Company Can
Having a vision for your impact lets you bring to life company values that may fly under the radar in your normal everyday activities. Giving back in an intentional way is an opportunity to lead by example, support your community, and be a part of something bigger than the day-to-day work you do. And by sharing your stories, you build goodwill with current and future partners, make everyone in the organization proud, and inspire confidence in others.
Leeatt Rothschild is founder of Packed with Purpose.