How Branded Entertainment Can Save Advertising
For decades, marketers have faced the daunting task of reaching audiences who don't want to listen. They responded to requests for less advertising by making their advertising louder and more obnoxious. Consumers are fed up and they're not taking it anymore.
A report last fall showed that 3.7 percent of paid television subscribers ages 18 to 64 plan to cancel their service outright in the 12 months, taking a hefty chunk of TV revenue with them. If customer satisfaction levels with the alternatives are any indication, this trend will only continue.
And don't think you can just reach those customers once they move online. Netflix, Amazon Fire TV, and Apple TV are already ad-free, Hulu rolled out a new ad-free product, and YouTube plans to launch an ad-free version this year. With premium versions of Pandora and Spotify available, not even music is safe.
Want to try banner ads and pop-ups instead? Forget about it. Approximately 200 million people currently use ad-blocking software when they browse the web; now that Apple allows users to block ads on the go, more than 800 million iOS users will be immune to interruptive advertising on their phones.
When consumers can pay pennies a day to avoid advertisements and receive premium features, they're more than happy to jump at the opportunity.
The Future Is Branded Entertainment
The marketing industry faces a dramatic shift ahead. As traditional advertising inventory is squeezed out of existence, advertisers need to stop thinking about interrupting and start thinking about providing desirable content.
Currently, most brands aren't well-equipped to make this change. They've devoted hundreds of millions — or even billions — of dollars toward building a disruptive advertising presence, and much of that investment has gone toward training a workforce to view the world in a way that's increasingly irrelevant. Shifting away from this mindset requires a complete reorganization of internal brainpower and resources that could take years to materialize. Without having the luxury of waiting years to reach consumers again, brands will look externally to fill this need.
In 2016, you can expect brands to partner with (or even purchase) companies that already have an entertainment mindset. Luckily for them, there are plenty of Hollywood production companies in search of this exact type of relationship. It has become increasingly difficult for movies that aren't attached to franchises to gain traction in today's market; money tends to be pushed toward popular entities like superheroes and cartoon characters from established franchises like Disney, Marvel and Star Wars.
This will be a match made in heaven: You have studios strapped for cash, struggling to get their original movies made, and you have advertisers being squeezed out of their existing industry due to ad-free restrictions. In the U.S. alone, we spend nearly $79 billion annually on television advertising. Once that money is redirected toward the acquisition of these production companies, you'll see a massive influx of original entertainment peppered with product placement.
Production companies benefit because they'll actually get to make their movies; advertisers win because people will see their products being used — with built-in celebrity endorsements. As for consumers? Having made our bed by skipping ads and installing ad-blocking software, we may now have to lie in it by watching brand-supported content. But with the storytelling expertise of Hollywood on task, that isn't necessarily a bad thing.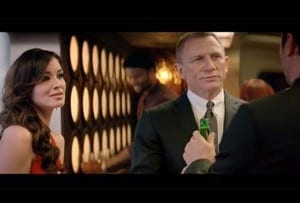 Branded Entertainment in Action
For an example of how branded entertainment will impact the U.S., we need only take a look across the pond. The James Bond movies have profited from product placement for years. Approximately one-third of the production budget for "Skyfall" was funded by Heineken — and the beer only appeared in the film twice (with multiple short-form derivative pieces surrounding the film's launch). Down the road, expect to see companies like Heineken, Procter & Gamble, and Geico sponsoring entire movies while incorporating their products throughout the content.
Several noteworthy brands are currently going all-in on branded entertainment. Red Bull, Nike, and GoPro have long been the leaders in this space. AT&T and the Chernin Group acquired Fullscreen to try to reach customers through better content. And Amazon has taken content generation to a whole new extreme (taking home Emmys and massive sales growth in the process).
The content is the star of the show now — and the advertising is just a happy byproduct. Today's brands can best reach their audiences by building relationships with entertainers who seek to reach that same audience.
After all, there are a lot more films to be made than superhero sequels, and James Bond isn't the only character who's thirsty.
Pete Borum is the co-founder and CEO of Reelio.