Extending Your Event With Social and Mobile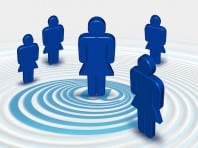 For B2B marketers, mobile and social is crucial to extending the engagement opportunities of live events far beyond the day itself.
"We try to create an app for every meeting that we do, using personalization and gamification to tailor it and make the experience personal." notes Brianna Smitko, senior digital project manager at Chicago-based B2B agency FLIRT Communications.
Flirt does the majority of its work in the event space, producing annual meetings and other events for Fortune 500 firms, pharmaceutical companies, healthcare businesses, insurers, retail companies and others.
A constant challenge for marketers is the fact that due to media overload 24/7, people's attention spans keep dropping, notes Hannah Evans, digital project manager at FLIRT. An app can help keep their focus."
One plus for marketers looking to create B2B social or mobile engagement is the fact that when you are creating a community, you have a built in audience that is in your field and cares about what you are doing, notes Smitko. "They're looking for platforms where they can be educated."
Video in social can be a particularly strong tool for education, because it can showcase your product or service in a way that is easily digestible, she adds.
Point systems for event apps can be a great way to get people engaged. The system can be weighted for different actions, such as taking a photo and uploading it, or giving feedback for a particular session, says Evans.
"A gaming layer where people can earn points helps people see where they rank among coworkers and friends [in participation] and makes it fun," she notes.
On-site, companies can also add other digital elements in-person to create engagement. For example, photos taken with iPads or iPhones could be turned into something else, such as a takeaway for the attendee.
"It's all about high tech, high touch," says Evans.