Break Down the Wall Between B2B Sales and Marketing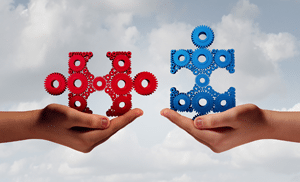 Are you stuck in a silo? B2B companies need to break down the wall between sales and marketing if they want to communicate effectively.
Often, both groups spend negative time and energy working towards their own internal goals, rather than working together to meet the customers' needs, notes Jim McKinley, principal at (un)Common Logic and a featured B2B speaker at Connect to Convert Oct. 3-5 in Boston.
"They're too busy defending their own territories," he says. "Marketing is focused on [generating] X number of leads and meeting their cost per lead goal, and then the sales team says those leads weren't sales qualified.
One thing that can beneficial in building a partnership is to pull back the curtain, and show the sales team the customer experience behind the lead, McKinley says.
The salesperson may look in Salesforce and see that the source of a lead is marked "Google." Sure, that may show that the first touch in the lead was via search. But the salesperson responsible for converting that lead to a customer doesn't know the context of the search interaction. The marketing team can sit down with the sales rep and show them screenshots of the exact search queries the prospect ran that brought them to the company's website, as well as the exact landing page the prospect was taken to after they clicked on a banner ad or search result.
---

Want to hear more from Jim McKinley about ways to make your B2B sales and marketing team work in harmony? He'll be co-presenting the session "Improving Sales and Marketing Integration" with Jay Newman of Pressable at LeadsCon's Connect to Convert October 3-5 in Boston. We hope to see you there
---
"It sounds simple but it can really give the sales rep a better understanding of the prospect's mindset," McKinley says, noting he's seen this improve close rates by six to 10 percent. "A lead from a trade show is warm, but if a lead came in through Google they might not have been [previously] familiar with a brand, and that difference can change the approach a salesperson might want to take with a client."
McKinley notes that he often recommends that his marketing team do "ridealongs" with the sales reps. This allows the marketing team to hear the actual language and objections expressed by the customer during the buying process, and see how the sales team overcomes them.
"Then, once they see what is working, the marketing team can then utilize that language in creative," he says. "The sales team has insights marketing can use in developing [materials.]"
---
More on B2B Sales & Marketing:
---