7 Best Practices for Creating App Marketing Campaigns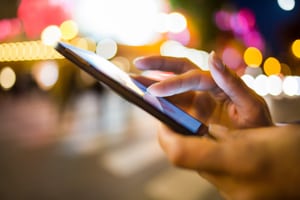 Captivating app marketing campaigns are built on a foundation of information—both off and online data that details app users' habits, preference and desires. Data-driven app marketing helps app professionals deliver personalized connections as people move from store to website, and from a website back to an app. In short, the right data helps to infuse a people-centered approach to app marketing, creating opportunities to engage users. Here are seven best practices for creating captivating app marketing campaigns.
Identify Mobile and Cross-Channel Objectives
First, take a moment to evaluate your objectives. People now spend more time in apps than any other form of digital media, but that doesn't mean apps act in a silo. To figure out how your app fits into your larger business strategy you must ask yourself:
What are my app's goals in relation to other platforms?
What kind of conversions do I want it to drive?
How do people engage with my business outside my app versus inside my app?
Create Appropriate Attributes for Targeting
A cross-channel approach opens the door for all sorts of new information (that you're tracking outside the app) to be funneled into your app marketing. But don't pump in information just for the sake of having more data at your disposal. Isolate the attributes that will be most appropriate to target within your app, such as:
Location
Age group
Birthdate
Social media sentiment
Last login
Purchase date
Family unit
Income bracket
Job role
Interests
Subscription history
Favorites
Customer acquisition cost
Comments received
Store credit
Keep in mind that the importance of these attributes will vary depending on the type of app you have. But remember, don't be a creep and don't use attributes that are inapplicable to what your app does.
Collect In-App Data
Consolidating customer data from other channels is a must for creating effective and relevant app marketing campaigns. But marketers also need to collect information within their apps. As people engage with your app over time, you can ask them for additional information, like requesting their loyalty card number or asking them to disclose their interests.
Refresh Often
Personalized data can go stale. Think about it: How embarrassing would it be to send your customer a "Happy Wedding Anniversary" coupon only to discover that their marital status has now changed to "single?" To avoid app marketing snafus like the one above, it's important to continually refresh your data, especially information from other channels. Keep your push and in-app messages relevant by keeping up with latest things your users are doing.
Optimize with A/B Testing
In the marketing world, A/B testing is like getting a hint on your exam (when your exam is on how well you know your user). The more you A/B test, the more clues you get on how to build strong push and in-app messages that resonate with your audience. It's an easy practice to skip when there's so much going on, but testing and tracking performance variables is a critical practice to creating captivating app marketing.
Be Relevant, Timely, and Concise
You've probably heard this one before, but it's nonetheless important enough to mention again. Stop sending everyone the same, generic marketing messages. Now that you have more data on who your users are, you have an increased responsibility to craft your messages so they are personalized, punctual, and to the point.
Maintain a Healthy Balance Between All Your Marketing Channels
"Boy do I hope I get blasted with lots of advertising today!" said no one ever. No matter how much you like a brand, nobody wants to be constantly bombarded with marketing. Smart app publishers balance their app marketing with their marketing on other channels so they don't overwhelm customers. Aim for quality, not quantity. Be persistent, but not annoying.
The short story with captivating app marketing is that seeing your app users as people – real people with wonderfully colorful lives – is the key to success. This vivid new insight can help you connect more deeply with your app customers because you'll have a better understanding of what they want and why they want it. But don't forget that people's wants and needs change over time so update your data and leverage A/B testing to adapt to changing preferences.
Follow these seven best practices, and you'll be well on your way to creating captivating app marketing campaigns.
Josh Todd is CMO at Localytics.