Data Mining Helps Oberweis Dairy Boost Retention
Data analysis conducted by Oberweis Dairy revealed the secret to retaining new home-delivery customers: Give no more or less upfront in a new prospecting promotion than had been previously offered, but package it differently.
Oberweis Dairy has put this new wisdom into action. It no longer waives its $2.99 per-delivery charge entirely for six months, preferring in many cases to reduce the fee for a full year.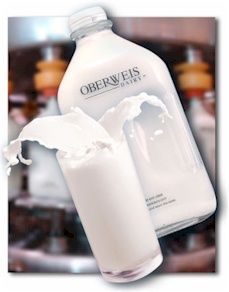 "What we discovered through analysis of attrition data is that at the six-month point we had a sharp discontinuity," Oberweis Dairy's vice president of marketing Bruce Bedford says of the original offer. "It didn't matter which market customers were in, the account sizes or how they came to us. If they came to us through free delivery, the drop-off could be as sharp as 20%."
The reasons for attrition at the end of six months likely weren't a matter of the cost being too high for its market: While the delivery service offers a variety of products, its signature product is its premium glass-bottle milk, which comes from cows free of recombinant bovine growth hormones. It's the sort of product that appeals to health-conscious families with at least a few kids – and those are traits that indicate an above-average amount of wealth.
By using software from analytics firm SAS, Bedford discovered there was one group that didn't experience the sharp rise in attrition after six months: Those who came to the delivery service through the company's website, and who were not offered any sort of discount. For that group alone, the attrition projections represented a much smoother curve.
This led Bedford to suspect there was something about the free delivery offer—or, rather, the lack of continuing the offer after six months—that correlated to the declines. "It's a perception of value," Bedford says. "[Customers] are not seeing why what they have been getting for free they now have to pay for."
"[Oberwies Dairy] had made an offer designed to tear down the barriers to entry for new customers," says Gene Gsell, SAS's vice president and general manager of the retail and consumer package goods group. "It was an acquisition offer, but in hindsight it wasn't a good offer."
For Oberweis Dairy, completely eliminating the delivery fee wasn't an option. It is priced to cover gas, vehicle maintenance and the salaries of the delivery staff. It does not, Bedford says, serve as a profit center. But what would the impact on retention be if there was a smaller step-up from a reduced – but not eliminated – delivery fee to the full fee? The company evaluated this theory by monitoring results from a five-market A/B test.
In July 2011, the company inserted two different offers into Valpak shared-mail packages aimed at markets in Chicago, St. Louis, Milwaukee, Detroit and Virginia Beach, VA. One million prospects were offered a years' worth of delivery at a 99 cents per delivery rate. Another million received a solicitation in which the delivery charge was eliminated for only six months, but they were offered an insulated delivery box (valued at $25) as a premium. Oberweis Dairy monitored order sources through tracking codes.
The two offers pulled at more or less the same response rate, says Bedford. The cost of each offer was also similar, roughly $100. The difference came when the six-month renewal period drew near: Those offered the 99 cent per-delivery charge for the full year stayed on at a much higher rate than those who were initially given free delivery and asked to take a step up.
Bedford is now testing the hypothesis that customers are reluctant to give up what they perceive as a deal, and that the further out his company can extend an offer, the more likely customers will be to stick with the service.
"We are now in phase two, where we are going back through Valpak with another test," he says. "We have two different promotions. One is the 99 cents per-delivery offer for a year, and the other is $1.49 for two years. I suspect when we hit the 12-, 13-, 14-month marks we will see the same discontinuous change in the [retention] curve.
"After 12 months, if there is a discontinuity, it won't be as sharp. What happens naturally after a customer uses the service for some period of time—for some it is a couple of months, for others, longer—is that it becomes a habit and they can't conceive of having another product."
In cases where there is no change of offer, home delivery customers re-up at rates of around 98%-99%, Bedford says.
Oberweis Dairy has used SAS for more than profiling existing customers. Late in 2009, when the two companies began working together, Bedford was able to generate a list of nearly 40,000 prospects for its home-delivery service from an in-house file of 250,000 "Moola" retail loyalty program members.
That analysis provided Oberweis Dairy with an early big win. Not only was the company able to determine which loyalty program members had the volume and frequency to be viable prospects, but mapping software allowed the dairy to incorporate how each prospect could fit into an existing delivery route. This allowed the company to factor the incremental cost of making a delivery to each prospect before making a single solicitation – and prospects that could readily be slotted into existing routes were given a higher priority in targeting efforts.