Coke Capitalizes on Second Screen Media, Polar Bears for Super Bowl
In the continual search to find new ways to connect with digital consumers, Coca-Cola has outfitted its iconic polar bears with the same technologies that Super Bowl XLVI fans across the country will be using to view the game and socialize with friends.
The bears will be found on Facebook lounging on their virtual "snowfa" in the Arctic, where they have a TV, computer, smart phone and tablet device. Their antics and reactions to the game, and much-anticipated commercials, on Feb. 5 will be streamed live on digital and mobile screens as they share a Coke in their ice cave with fans invited to join in.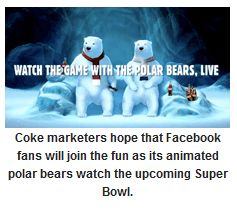 And like many real fans watching from home, the two will be rooting for opposing teams and friends will periodically stop by, like a penguin and young polar bear.
If people have not learned about the site prior to game day, two new animated ads featuring the polar bears will air during the first and second quarters. The 30-second spot, "Superstition," opens with one of the polar bears showing his superstitious side by watching the game with his fingers, toes, arms, legs and even his scarf crossed. A 60-second spot, "Catch" opens in real time showing football-style moves after one bear fumbles his bottle of Coke. The ads are part of the Coca-Cola "Open Happiness" campaign. Both of the spots conclude with a call for consumers to join the polar bears live at www.CokePolarBowl.com.
On Twitter, and in a first for Coca-Cola, the bears will "take over" the @CocaCola Twitter account on game day. The profile photo for Coca-Cola will change from the Coca-Cola logo to an image of the two polar bears. The bears will tweet using the hashtag #GameDayPolarBears. The tweets, at times, will incorporate promotions to encourage fans to participate. For example, one tweet might read: "If you tweet us photos of your own game-day party we'll feature them in our live stream. That is, if the penguin deems them worthy."
After the game, Coke will also provide an app for Facebook fans to get coupons. Fans of the winning team can send a digital Coke using the "Ahhh Giver" Coca-Cola polar bear and fans of the losing team can send the "Argh Reliever". Both images will send a coupon for a Coke. Last year, for the 2010 Super Bowl, Coca-Cola used Facebook to allow those fans who shared three virtual gifts to preview its Super Bowl ads.
While the polar bears may be staging their party in the Artic, animators using a combination of traditional video gaming controllers and a proprietary PC-based interface will control the bears from New York City, in a control room located at MLB Advanced Media, a company that delivers streaming content. In October, Coca-Cola, for the first time, turned its iconic red cans white as part of a cause-marketing promotion to help conservation efforts for polar bears Arctic home. However, the cans got a chilly reception from confused consumers who thought they were buying silver-colored cans of Diet Coke.
This is the sixth consecutive year that Coca-Cola commercials will appear during the Super Bowl broadcast. Coca-Cola worked with Wieden + Kennedy in Portland, OR, to create and produce the CokePolarBowl.com experience and corresponding TV spots. They collaborated with both Animal Logic in Sydney, Australia and Framestore in New York and London to develop the animations and digital technology.