Citi Targets Tablet Banking App to Kindle Fire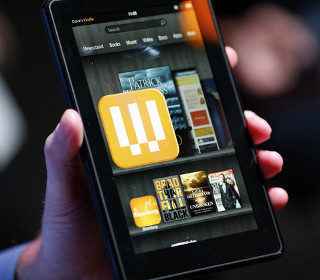 Apple has 62% of the tablet market today and may extend that share to 70% by the end of the year, according to research. But marketers not willing to write off the Android tablet audience are faced with a problem: Which Android device to create those apps for?
In March Citibank placed its first official Android bet on the Kindle Fire, the tablet launched last September by Amazon. The new Citibank Kindle Fire app is similar to the bank's iPad app but is specifically designed to suit the Kindle's operating system, screen size, resolution and other form factors.
The Citi app will now be the first one customized for Kindle in the finance section of the Amazon Appstore for Android, the central location Kindle Fire users access to download programs for their devices. The app will use the Kindle Fire's 7-inch full-color touch screen to let Citi customers create graphs and other visual aids in managing their cash flow, transferring funds, paying bills and accessing rewards.
"Based on the extraordinary download rates and highly positive consumer feedback that followed our initial tablet app launch [on the iPad in July 2011], we know how much our customers value these tools," Tracey Weber, Citi's managing director for consumer Internet and mobile banking in North America, said in a release. "When Amazon launched Kindle Fire, we understood our customers would want a customized app that brings dynamic banking capabilities to this popular new tablet, and we worked swiftly to create one."
Citi also recently released an iPhone app that lets members of its ThankYou Rewards loyalty program pool their points for a common goal via social cooperation.
Shortly after its launch, Amazon said that sales of the Kindle Fire—which retailed for under $200– exceeded 3 million units. Analysts have suggested that Kindle Fire sales in the last quarter of 2011 may have reached 6 million, making it the best-selling Android tablet in the market at that time.
But more recently, Amazon refused to break out sales data specific to the Kindle Fire in its quarterly earnings call last February, offering only year-over-year sales results for the entire family of Kindle products, including both tablets and ereaders. And analysts are now speculating that Amazon sold the Kindle Fire at a loss last year, to dominate the non-Apple tablet market and to sell more downloaded content from its store.
Marketers who present Android apps have most often distributed them through Google's Android Market (recently rebranded the Google Play Store). But unlike Apple's apps , which go through a thorough investigation before being uploaded to the iTunes Store, Google's Android offerings are not pre-screened for malware or viruses before being added to inventory but are vetted after entering the inventory That resulted in Google pulling more than 100 malicious apps from its store in 2011.
But Amazon has adapted the Apple model and puts each Kindle Fire app through a submission process before offering it to users. That adds a level of user confidence that many think necessary to encourage the takeup of mobile banking. (Citi already has mobile apps for Android and Apple smartphones and for the iPad.)
Kindle Fire represented only 3% of Android tablet app sessions in November, but thanks to strong holiday sales grew that share to 37.5% in January, according to mobile analytics firm Flurry. By contrast the Samsung Galaxy Tab went from 63% of Android app sessions in November 2011 to 35.6% in January.