A New "Outlook" on Personal Email
Microsoft made the next big move in the email world yesterday, introducing Outlook.com as a personal email service that will replace HotMail.
Less than 24 hours after the rollout, a reported 1 million people were already using the service, according to Microsoft. On the Outlook blog, Microsoft extorted the benefits of the new service, such as its ability to socially connect with users' Facebook, Twitter, LinkedIn and Google accounts, should the user desire this level of interactivity.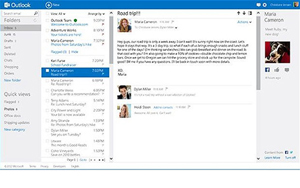 Outlook.com will also automatically sort messages into categories such as those from personal contacts, newsletters, shipping updates, and social updates. "Sweep" features will allow users to set up rules for how their messages are managed in a few clicks, meaning marketers will have to make their messages more relevant than ever if they want to stay in a consumers' folders of favor.
Wilson Rothman of MSNBC praised the interface as "clean and butter smooth, with very nice contextual menus that pop up when you need them, one-click read/unread buttons that show up on rollover, drag-and-drop contact info and more."
He noted that he had yet to see an ad, but that when they appear they will be on the far right, adding that he had been told by Microsoft that data mined by service won't go as deep as providers. This means that consumers will see contextual ads based on the subjects and brand name senders of email, rather than contents of personal messages.
Slate.com's Farhad Manjoo praised this approach as well.
"Outlook's approach to advertising is also refreshing. Like on Gmail, the ads here are small, text-based, and never distracting," Farhad wrote. "Outlook displays more of these ads on its front page than Gmail does (though since they're on the right rail, the space they take up isn't valuable)—but when you click on an email to read it, Outlook is more deliberate about where it displays ads and where it doesn't. The system will show you "relevant" ads alongside newsletters and other mail from companies, but when you click on messages from real people—your mom, your colleague, your boss—Outlook will not display any advertising."
Not surprisingly, the topic came up during a "Future of Email" webinar sponsored by Lyris on Tuesday. "Microsoft is moving into the cloud, and that makes sense," says Brennan Carlson, vice president of corporate strategy for Lyris.
While Microsoft isn't requiring Hotmail users to migrate their addresses to Outlook, it makes sense that their longterm hope is users will make the jump on their own. After all, as Mary Jo Foley writes on CNET, "In some countries, @Hotmail e-mail addresses are not pariahs. But in others, they're considered as unhip as @aol addresses."
On the Internet's royal court of public opinion, a.k.a. Twitter, there were many positive tweets along the lines of:
Goodbye #Hotmail and Welcome #Outlook. This is a huge step for Microsoft!
But there were also a few wry comments as well:
Microsoft renaming Hotmail to Outlook but people probably won't reactivate since first part of address is probably iluvpikachu17.
Microsoft's "Outlook" appears very nice, but I'd sooner change my car than my email address. They need to study switching behaviour, badly.
This #outlook Captcha attempt thing is some goofy MS joke, right?
The last tweet referred to the very picky image-response folks looking to register new addresses had to complete to get their requested address confirmed. A few folks said they couldn't get past it and gave up. (Personally, it took me four attempts before I could get it right.)
Have you claimed your Outlook.com email address yet? What do you think it means to marketers? Let me know at beth.negus@penton.com.