2012 PRO Award Finalist: TRIS3CT for Newell Rubbermaid Office Products
In a down economy, even pens are subject to cutbacks, and uni-ball, second in market share (28%) behind the leader Pilot (42%), was feeling the brunt. During the 2010 back-to-school/college period, uni-ball's sales performance was down a whopping 20.3%.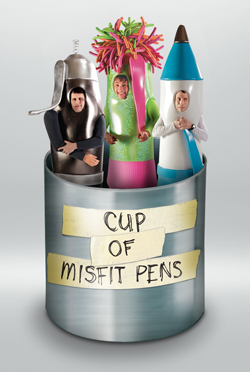 For the 2011 back-to-school period, TRIS3CT was challenged with reinvigorating the brand for Newell Rubbermaid Office Products. Research showed that uni-ball's young male target used pens every day, but didn't understand product differences. The agency determined that uni-ball needed to reframe its pens as an affordable indulgence that can instantly elevate their professional stature, and linked them to brands from other relevant lifestyle product categories like The North Face, TUMI, Starbucks, Oakley and Apple.
Three :30 spots were created featuring Fred Savage, the director of comedy shows like "Modern Family" and "Always Sunny in Philadelphia" (and as a youth the star of "The Wonder Years"). Each video highlighted the humorous problems that come with using an inferior pen, like "The Piddler" who is a leaky mess; "Mel Function" who constantly breaks down; and "The Spectacle" who is a major distraction in the workplace. Each storyline ended with the dramatic introduction of uni-ball's flagship pen – the Vision Elite – resolving the situation.
The videos ran as pre-roll advertising on websites where the young male target hangs out, such as FoxSports.com and Collegehumor.com. Flash banners and Facebook Sponsored Stories also introduced the antics of uni-ball's pen characters.

They also drove consumers to an immersive Facebook experience centered around "The Cup of Misfit Pens," where consumers could trade in one of their inferior pens to access a world of lifestyle upgrades. Three different apps allowed users to upgrade their Facebook page in fun ways, including posting a fictitious job title across their profile photo bar, enhancing their Facebook photos with different frames and filters, or printing a corner office view to hang up at their desk.
The experience engaged users with the uni-ball brand and prompted thousands of people to share upgrades with friends, while showcasing uni-ball pen features and offering a downloadable coupon to drive purchases.
Unique in-pack codes were used to incentivize purchase and drive consumers to the brand's Facebook page. Prizes included electronic, apparel and lifestyle upgrades.
By positioning uni-ball as a badge for aspiring young professionals, Facebook likes increased by more than 540%. Users spent about 5 minutes each participating with the apps (visiting 5.75 pages per visit) and sharing thousands of their creations. Coupon print allocation had to be doubled (from 20,000 to 40,000). Uni-ball's consumer database grew, with an average of 33% of participants opting-in.
The promotion generated more than 250 million branded impressions; 8 million video views with completion rates as high as 85% (compared to 65% average); and 300,000 clickthroughs.
During back-to-school, off-shelf displays and promotional support increased by a 300%. The net result was a +3.1% growth in a category that was down -0.8%.