T-Mobile's CMO on Going Deep with the Home Run Derby
With MasterCard touting the title sponsorship of the MLB All-Star Game, T-Mobile picked up an MLB All-Star asset that may bring even more clout than the game itself—the Home Run Derby.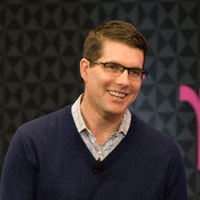 The wireless provider had been with the league since 2013. When T-Mobile and Major League Baseball renegotiated in 2016, the extension included the title sponsorship of the Home Run Derby.
After 47 total home runs by Yankees rookie Aaron Judge to win the derby at Marlins Park earlier this month, Evan Vladem, of Associated Group and a sports marketing and sponsorship consultant at rEvolution, spoke with T-Mobile's Executive Vice President and CMO, Andrew Sherrard, to discuss the strategy and influence of the deal.
VLADEM: How big is it to be able to leverage the derby, especially as the title sponsor for the past two years?
SHERRARD: Coming out of this year's T-Mobile Home Run Derby—the most-watched since 2008 and ESPN's most-streamed MLB event on record—we couldn't be happier. It's something we really love partnering with MLB on, finding ways to connect with fans and give them more of the sport they love.
VLADEM: What is the overarching goal of the deal? A huge push is obviously unlimited baseball with #ScoreUnlimited.
SHERRARD: Well, as the Un-carrier, we're changing wireless for good. Our customers come first and we know T-Mobile customers love baseball. So naturally, we gave them ways to #ScoreUnlimited baseball during All-Star Week.
For the past two seasons, we welcomed baseball back by giving T-Mobile customers free MLB.tv Premium subscriptions to enjoy unlimited baseball, all season long on America's Best Unlimited Network.
VLADEM: How did you execute on the sponsorship this year?
SHERRARD: For the second T-Mobile Home Run Derby, we kicked things off nationally with the second T-Mobile Bracket Challenge where we saw more than 100,000 entries, two new ads with Giancarlo Stanton and Bryce Harper, and we gave fans at home a behind-the-scenes look at the Derby in social with the T-Mobile on-field player lounges.
VLADEM: Did you do anything on a local level
SHERRARD: Locally, we partnered with hometown favorite Giancarlo Stanton and hid baseballs around Miami and gave the first fans to find them free tickets to the Derby. At our signature store on Lincoln Road, we partnered with Hugo "Juice" Tandron, the official barber of the Miami Marlins and Giancarlo Stanton to give fans more than 150 free MLB-quality haircuts throughout All-Star Week. We even had some Derby and All-Star players stop by to meet fans, including Marlin Marcell Ozuna, T-Mobile Home Run Derby finalist and Minnesota Twin Miguel Sano, and New York Yankee Luis Severino. At Marlins Park, we also surprised 12 sections—about 7,500 fans—with magenta popcorn balls and cotton candy to celebrate the 12 magenta baseball home runs hit during bonus time at the derby.
Finally, we also livestreamed the broadcast above our signature store in Time Square, making it easier for New Yorkers and Yankees fans to watch their very own Aaron Judge win the 2017 T-Mobile Home Run Derby!
VLADEM: How were these activations developed to get the most out of the sponsorship? Which activation was your personal favorite?
SHERRARD: We don't have the big pockets our competitors do, so we must be different, more interesting, and most important, better! Our team is hyper-focused on developing unique and meaningful creative and experiences for our audience—in this case, baseball fans—and bringing the Un-carrier to life in relevant ways. I truly think everything we did was awesome, but the Un-carrier Barbershop was one of the stand-outs for me. Seeing the lines and the excitement of the participants was incredible.
VLADEM: How important is it for brands to create integrated campaigns, with multiple touchpoints around a single event?
SHERRARD: Especially with big activations like this one, it's essential to take a 360-approach. We're a social-first company and digital is an important part of our overall strategy. We know it's where people are consuming and engaging with massive amounts of content daily. But with every moment, we identify where our target audience is most engaged, and that's where we go big. From there, we create a completely integrated campaign across all platforms to ensure T-Mobile is showing up in relevant, authentic and engaging ways.
VLADEM: Why is Major League Baseball such a pivotal platform for T-Mobile?
SHERRARD: This is our fifth season as the official wireless partner of MLB, and we know our customers love baseball. This year alone, we delivered $45.2 million in value to our customers with our free MLB.TV Premium offer, and they've already streamed more than 600,000 hours of baseball this season alone. So partnerships like this, where we can give baseball fans more of what they love, is amazing for both our brand and our customers.
Related articles:
Q&A with MasterCard's Head of Marketing for North America and its MLB Sponsorship
Continental Tire MLS Sponsorship Reward is Loyalty and Purchases