The Best of the Best: Four Game Changing Ideas from IMA Winners
What's the best way to sell hungry consumers on a new organic sandwich wrap? How do you get the attention of tech-savvy, easily distracted teenage girls to introduce them to a line of shave gels? How can the enthusiasm of soccer fans be harnessed to generate awareness for a credit card?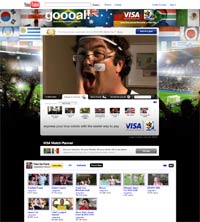 The answers to those challenges and more came in the form of interactive consumer promotions, 15 stellar programs that wowed the brand and agency judges charged with determining the winners of the 2011 Promo Interactive Marketing Awards.
All of these campaigns offer valuable lessons that marketers can apply to their own promotional efforts in 2012. Here are some highlights and trends to put in your own marketing toolbox for the new year.
Technological Wizardry
Agencies and marketers that effectively integrate new technologies into their campaigns will be rewarded with huge viral success—and a pat on the back from clients. The Best Overall promotion, "Snow Day," from interactive agency Rosetta, showed us that such innovations can blend seamlessly with creative to transform the mundane into the spectacular.
Rosetta invented a technology combining facial recognition software and motion-tracking algorithms to recognize a user's tongue by color so that people sitting in front of their computers could stick out their tongues to "catch" snowflakes falling on their screens. The invitation to participate came in a self-promotional holiday-greeting email designed to demonstrate the agency's creative thinking and technological capabilities, as well as its expertise in generating successful viral and social media efforts. Once 1 million snowflakes had been caught (it took just six days, four hours and 44 minutes), Rosetta promised to make it "snow" in New Orleans at an event for children.
"It was such a simple delight," says Toni Hess, partner and executive creative director at Rosetta. "That's one of the reasons it was so successful."
Lead Generation
One theme that ran across multiple winning promotions was the use of intriguing, relevant prize packages to increase lead generation.
In the case of Skintimate Signature Scents, a line of moisturizing shave gels for teenage girls, the prize in an essay video contest was the chance to become a member of one of two crews of nine girls to be flown to Hollywood to produce a film and edit a short movie. The teams used their social networks to recruit friends to compete for votes. During the contest, handled by Planning Source, the Skintimate Facebook fan base grew from 300 to more than 20,000.
Another brand, GameStop, and agency The Marketing Arm, used what it calls "epic" rewards to recruit members to its new loyalty program. One epic reward was promoted each month as part of a sweepstakes offering prizes like behind-the-scenes access to the winning driver at a NASCAR race  and a trip to Comic-Con International  in San Diego. The sweeps helped GameStop sign up more than 6 million new loyalty members.
Viral Spread
Driving success this year will be the ability to create interactive promotions that spread virally through social platforms. The key lies in the content. Visa and its agency Tenthwave generated 7 million views from around the world in the run-up to the 2010 FIFA World Cup South Africa games by soliciting consumer-generated "goal call" videos from fans; the selected videos were uploaded on the "Go Fans" YouTube channel and spread virally.
"Visa was looking to get eyeballs on the page," says Steve Caputo, managing partner at Tenthwave. "It was all about brand awareness and viewership."
Mastering Mobile
Apps, texts, tweets and scans will all be in play this year as marketers work to move mobile marketing forward. Crane developed an app game  to promote its Blue Book of Stationery—The Styles and Etiquette of Letters, Notes and Invitations. The game allowed a peek into friends' live feeds and—in a nice way—critiqued their comments by allowing the user to post icons on the writings, followed by explanations. The app attracted more than 6,500 monthly active users.
In another example, Pepsi and GMR Marketing  developed a mobile voting program that fed into a mobile website to enhance its "Refresh Project," which gives away millions of dollars to fund "refreshing ideas." Nearly 1 million SMS votes were being cast per month, accounting for about 15% of the total votes. Each mobile user cast an average of 5.2 votes.
"We are definitely pleased with the engagement results overall," says Andrea Canabal, communications manager for Pepsi. "The mobile piece provided more engagement and more time spent on our website."
Case studies of all of the winning Promo Interactive Marketing Awards promotions can be found at promomagazine.com/awards/ima-awards/.