Retargeting Outperformed General Sites in 2011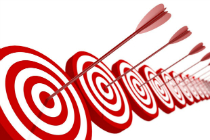 Retailers constantly ask if ad retargeting is worth the cost. Trailing visitors who have come and gone from your ecommerce site and showing them ads on third-party sites that relate to the goods they saw on your site costs a premium over basic run-of-network ads. Now evidence collected by solution provider MediaForge suggests that the effort is worth the extra.
The company tracked results for 18 client ecommerce sites in the apparel, sporting goods and home and garden categories from Cyber Monday 2010 to the same date in 2011. Over that time they found that retargeting campaigns produced substantially improved revenue over basic site performance. For example, while the sites in total saw revenue improve by 40% in that time, revenue coming through retargeted ads improved 149%. Average order volumes on the sites rose 9%, but AOVs in transactions attributed to retargeted ads increased 10%.
Due mostly to innovations in engaging interaction with retargeted ads—including things such as ratings/ reviews and other third-party content and the ability to share ads in social media—MediaForge determined that the rate of conversions resulting from retargeting engagements rose by 63% between the two shopping holidays.
Given that analysts put shopping cart abandonment at about 80% and web site abandonment at a possible whopping 98%, signs that retargeted ads are worth the added cost may be good news for ecommerce merchants.