Key Must-Haves for Data Optimization
There are many elements to a successful marketing campaign. But if you don't have the right data—and the right tools to target your audience with appropriate messaging and content—you will fail. In this special report, discover the tech and tools you need to maximize customer intelligence and conversion.
Learn:
What data optimization tools fit your budget
Ways to leverage tech for a single customer view
Ideas for making big data actionable
Ancestry.com's secrets to creating a hybrid user data team
Tips for collecting and optimizing B2B data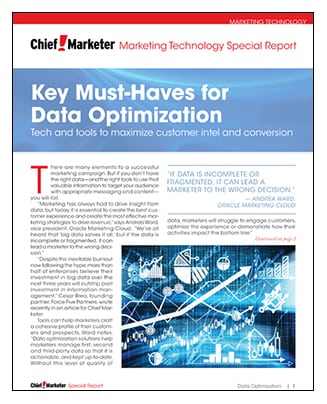 Thank you for downloading this report.
You may also find these reports of interest.