Special Report: Using Technology Solutions to Fuel Social Engagement
Conversations and customers that are relevant to your brand are already out there on social media, but it's up to marketers to find ways to tap into those conversations and target the right people to maximize engagement and value. Technology solutions are making that process easier for marketing teams by automating the creation of content aimed at driving engagement, as well as allowing the creation of custom social audiences that are based off of existing CRM data that marketers already have.
In this special report, learn how:
Custom audiences on social networks are creating new targeting opportunities for marketing teams
How to maximize value from social media data
How data and social are teaming up to create new levels of personalization
Why real-time quizzes and polls are great ways to engage audiences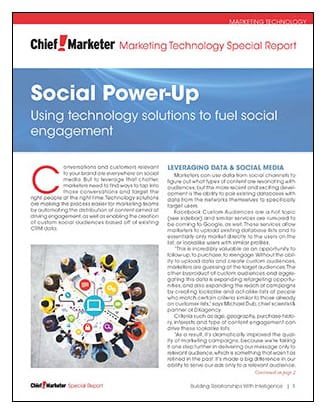 Thank you for downloading this report.
You may also find these reports of interest.