Multicultural Millennials Mindset
How brands are creating strategies to connect with ethnically diverse Millennial audience segments
The face of the U.S. consumer is changing fast. By 2019, some 135 million U.S. consumers will make up three groups: Asian American, African American or Hispanic. Marketers are looking to be culturally relevant to this growing diverse marketplace of Millennials whether through a total market approach or single initiatives.In this report you find:
A survey identifying organizational conflicts slowing multicultural marketing efforts
5 tips from Moët Hennessy to connect with multicultural Millennials
Lessons from Allstate's marketing to LGBTs, Hispanics and Asians
A candid presentation with Stoli on how it survived the "Dump Stoli" crisis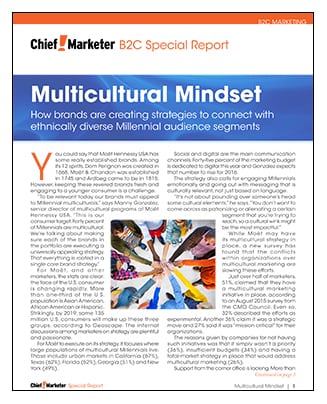 Thank you for downloading this report.
You may also find these articles of interest.