The Unboxing Phenomenon is Booming—But Will It Stick?
Elaborate mailed kits are making connections and bringing brands to life.
Premiums and promotional items can be anything from an
afterthought to a highly coveted item that anchors conversations at a launch, conference or trade show. But this year, as live events pivoted to in-home experiences, they've become just about the only touchpoints for marketers looking to strengthen connections.
Outfitted with everything from custom merchandise to digitally
enhanced happy hour packs, these elaborately produced kits are meant to surprise recipients, engage their senses and lead them through a memorable brand experience.
But are these unboxing kits just a stop-gap solution, or are they destined for a more permanent spot in the marketing toolkit?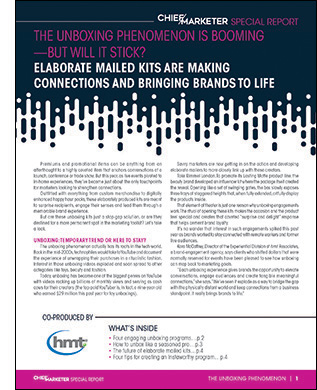 In this special report you will discover:
Standout unboxing programs for all types of audiences
How to unbox like a seasoned pro
The future of elaborate mailed kits
How to create an Instaworthy program
Co-produced by: